August 7, 2020
Breast augmentation (augmentation mammoplasty), also known as a 'boob job' is the ideal solution for women who want to enhance the size, shape, or symmetry of their breasts. A breast augmentation can make you feel anything from more confident in a swimsuit to ferociously feminine in a blouse!
Nevertheless, the goal of breast augmentation is to produce natural results that complement the unique figure of each individual woman. Imagine having the beautiful curves, shapes, and symmetry of the well-sculpted models you see in magazines, or simply the size C-cups that you had formerly fit in.
Breast augmentation provides a wide variety of personalized solutions to improve your image.
Talia Echecopar, a popular Influencer on Instagram, did a breast augmentation with us in September 2021. You can see the beautifully natural results in these photos. 
When is treatment Advisable?
Although augmentation will not correct drooping breasts, a breast lift and augmentation procedure can be combined into one operation.
Consequently, breast augmentation is an easy solution for women with wide hips and/or flat chests to balance out and enhance the aesthetical appeal of their figures. On the other hand, many other women lose breast volume after weight loss or pregnancy and simply want to reclaim their youthful splendor.
Be that as it may, breast augmentation is not advisable for women who are under 17 years old, nursing, or pregnant.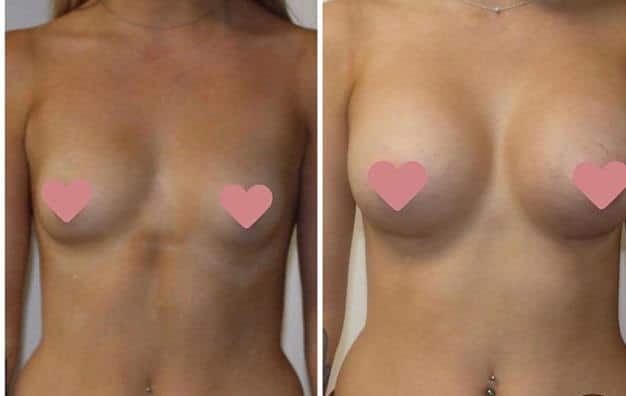 This patient used Motiva Ergonomix 'tear drop' implants for this beautiful result
Breast Augmentation: Consultation
Breast augmentation provides countless options for women to improve the aesthetic appeal of their breasts. Not only do breast implants come in different sizes, but they also come in different materials and shapes.
Most importantly, there are a variety of techniques to diminish scarring and the invasiveness of the procedure. For this reason, a thorough consultation is critical to your long-term satisfaction.
Our English-speaking surgeon, Dr. Daniel Saco-Vertiz has many years of experience and is a board certified Specialist at the Peruvian Medical College. He uses advanced Crisalix 3D technology to show you simulations of how the breasts will look once treated.
He will help you decide on the ideal profile, size, shape, and implant material during the consultation.
Interestingly, all implants have an outer silicone shell and a filler substance. This filler is either saline or a silicone gel material. The traditional silicone and saline implants are recommended for women who want rounder fuller breasts.
However, more and more women are opting for the highly cohesive silicone gel implants known as 'gummy bears'. These are great for their natural teardrop shape and a texturized shell that bonds with your natural breast tissue. Gummy bear implants also feature a soft-to-the-touch natural feel.
Breast Augmentation: Treatment
A number of surgical techniques are available to limit the impact of scarring. If you are simultaneously undergoing a breast lift procedure, the incision will be made around the outer edge of the areola. This combines the incisions of two procedures into one and blends fine scar lines with your natural body curves and transitions.
Motiva 'ergonomix' implants, also known as 'tear-drop' implants are a very popular option.
Breast Augmentation: Recovery
This is an outpatient procedure and will have you up and walking around a few hours after surgery. Implants are inserted in a small pocket that is located either directly above the pectoral muscles or partially behind them. Your implants may sit higher at first and settle into place after a few months.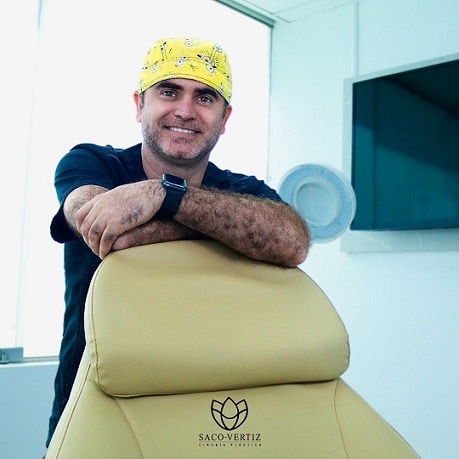 Dr Daniel Saco-Vertiz is our specialist in breast augmentation procedures – CMP 49075 and RNE (specialist) N° 34624, surco branch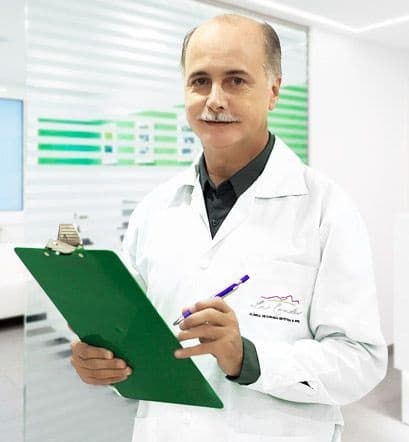 Dr Flavio Nicolich is our specialist in breast augmentation procedures – CMP 21341 and RNE (specialist) N° 11101, san isidro branch
Interested? Get in Touch!
For additional information or to schedule an appointment with one of our Specialists, please contact us. Leave us a message asking for a video call or a regular call, and we'll be back with you shortly.
On the other hand, if you use WhatsApp, then this is safe, fast, and effective for rapid communication.