June 20, 2023
Needless to say, optimal oral health and modern dentistry are important because it affects so many facets of our overall physical health and well-being. Nevertheless, American and Canadian patients hit a glass ceiling when they seek sophisticated care, for seemingly inexplicable reasons.
Our team of professionals en Lima include specialists in implantology, oral surgery, maxillofacial surgery, smile design, rehabilitation, root canal, periodontics, orthodontics, and 3D CAD CAM restorations.
Did you know that the risks of chronic infections from bad root canals and other poor quality treatment often leads to other serious health problems? In fact, nearly half of Americans over the age of 30 are suffering from periodontal disease. This is a disease that destroys the jawbone, gums, and teeth.
A 100% correct diagnosis with 3D digital x-rays is the first step for any new patient in our clinic.
The best method of addressing these issues is to get it done right in the first place.
Using modern 3D digital dentistry is a good first step in the right direction. Seeing a professional accustomed to using cutting-edge technology and giving top-notch care can help improve overall oral health.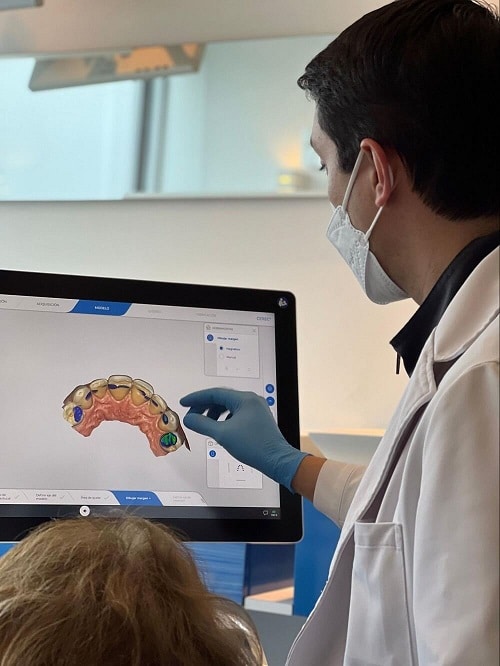 Our CEREC 3D CAD CAM systems from Germany offer the highest precision dental restorations. These include veneers, crowns, bridges and inlays in one single visit.
The Consequences of Outdated Dental Work
The majority of people in the United States and Canada have dental work carried out by older dentists who lack modern tools, modern techniques, and advanced training. Alternatively, dentists who do offer modern dentistry offer prices that are sky high. And therefore, out of reach for the vast majority.
Any kind of infection in the mouth (including the gums and jaw bone) can lead to oral surgery. Some infections can lead to muffled hearing, pressure in the ears, chronic ear infections, and other irritable problems.
Interestingly, the American Dental Association has more to tell us. They say that oral infections are also associated with an increased risk of heart disease, oral cancers, periodontal disease, and halitosis (bad breath).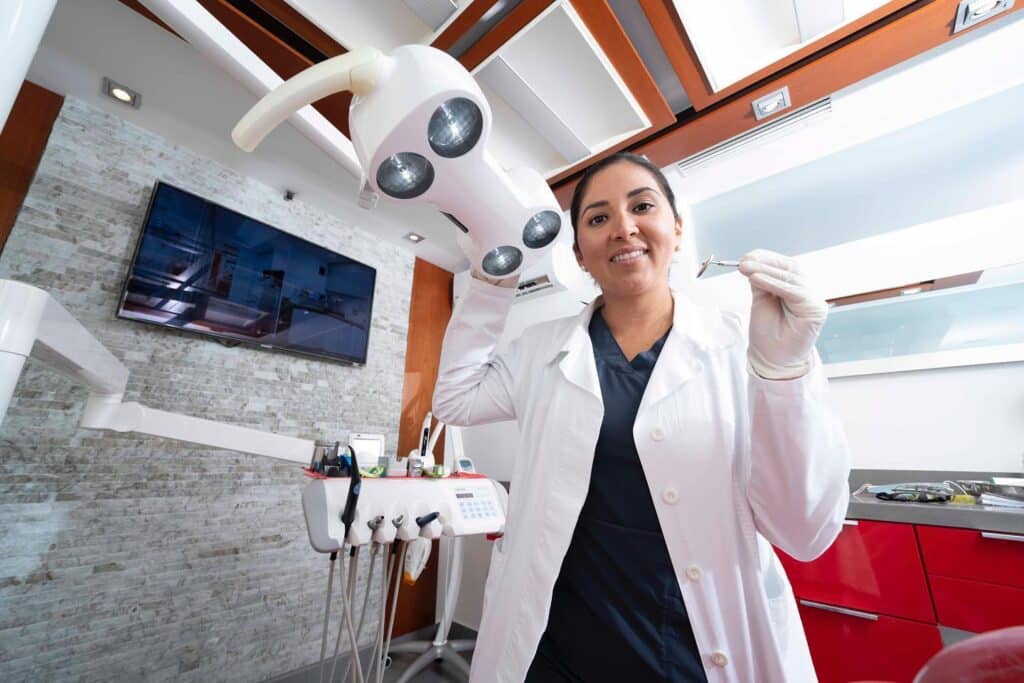 Dra Sandra Bobbio, our head of operations at our clinic in Lima
The Reasons for the Lack of Quality Dental Care in the USA
Many U.S dentists are comfortable relying upon their current skillsets and see no reason to improve their practices with more modern 3D dentistry.
In addition, patients may fail to visit their dentists regularly for annual cleanings and preventative restorations. And this because their dentists are booked up solid, and their insurance plans are limited.
So, What is the Solution? Modern Dentistry in Lima, Peru.
The solution for many is to book a low-cost flight for world-class dental care with us in Lima, Peru.
This trend of dental tourism brings Americans and Canadians the quality of care that only the very wealthy in the U.S and Canada can afford. But for a fraction of the price in Lima. Not only will you find English speaking doctors and a world-class dental team. You will also be pleased by our modern facilities and computer technology. Our investment puts to shame many North American dentists.
CEREC 3D CAD CAM digital dentistry in Lima is the way forward for high quality, same-day treatments
Advantages of Modern Dentistry in Peru
Consultations and treatment planning include specialized 3D x-ray imaging, while restorations are performed on-site by 3D CAD CAM to ensure the most accurate, high precision fit, and superb esthetics without adjustments or extensive sculpting.
Having several 3D CAM CAD computer-made restorations the same day, in the same clinic, is obviously very beneficial. This saves the inconvenience of having to wait for a lab to fulfill your order for a new crown or other tooth part.
Porcelain veneers can also be made, as needed, right there and then. Dental implants are placed as required for missing teeth, in the same session as other dental work.
Our popular 3D Smile Design technology is available at our clinic in Lima. How about this for a fabulous result?
Modern Dentistry in Lima – The Next Step
If dental care in Peru is something you may be interested in, please contact us to ask any questions you may have. We're also on WhatsApp for quick and effective communication.