October 8, 2022
A virtual consultation is a video conference. The appointment is scheduled just as if it were a face-to-face consultation. Dr Saco-Vertiz spends a predetermined amount of time with you to explain everything you need to know about the treatment you are looking for.
It is important to understand that the appointment is a commitment between the patient and the doctor. Therefore, and to avoid lost spaces in our agenda or no-shows, all of our appointments are always prepaid without exception.
We offer video consultations from Monday to Friday. They are carried out through Zoom or a WhatsApp video call which is fast and secure for all of us.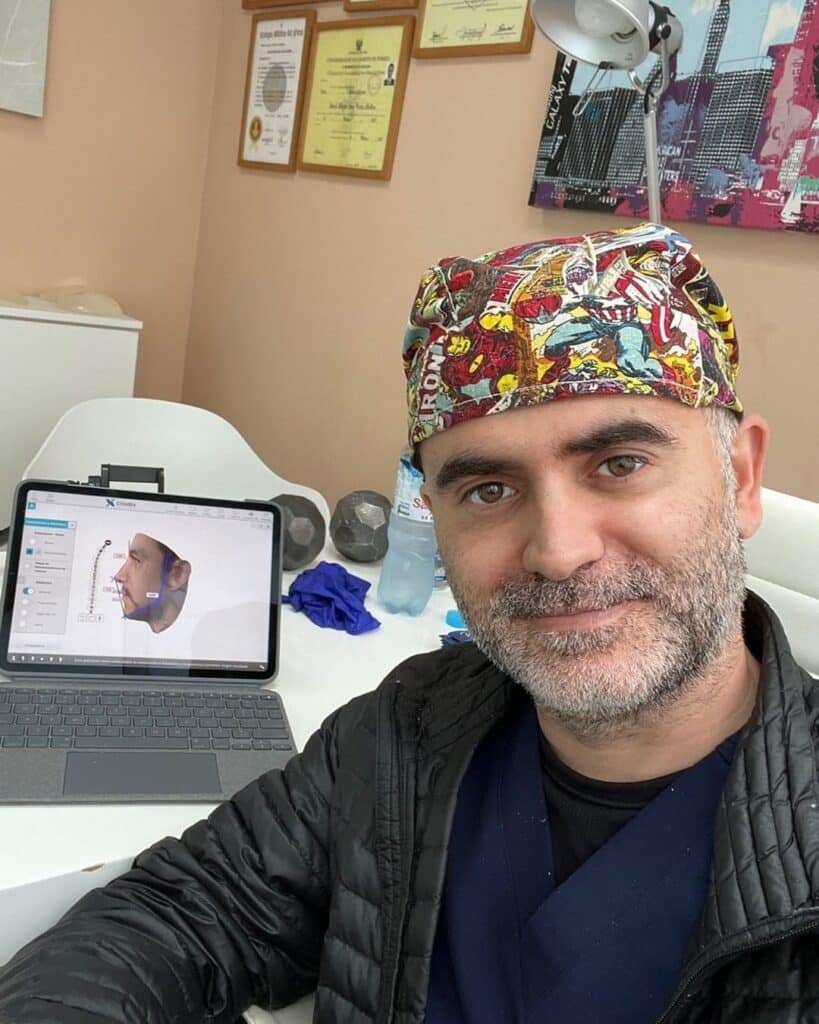 Dr Saco-Vertiz offers video consultation and 3D simulations with Crisalix software
Benefits of having a Virtual Consultation with our plastic surgeon, Dr Daniel Saco-Vertiz.
It gives you the opportunity to meet the surgeon.
Dr Daniel will carry out the consultation as he would if it were a face to face appointment.
He helps you learn more about the procedure you are looking for and give you all the information you need.
On the other hand, he helps you decide if you really want to go ahead with the surgery; it also gives you time to think once you have all the details you need.
A virtual consultation also gives you a better understanding of the costs and forms of payment.
Above all, it helps get things going if you have a time limit for surgery or if you have a specific surgery date in mind.
After your virtual consultation, you can come in for an in-person consultation at no cost.
Top 10 tips for a successful medical consultation
(1) Be punctual and on time for your appointment.
(2) Start your consultation knowing the time available (approx 30 minutes)
(3) Lay the groundwork and your ideas for effective communication.
(4) You can attend accompanied by your spouse or partner if you wish, and most people like this option.
(5) The most important thing is to carry a pen and a small notebook with your questions and concerns, ready to talk with the doctor.
(6) Respond concretely, precisely and, as far as possible, objectively.
(7) Be prepared and understand each part of the medical consultation. A medical appointment consists of 3 fundamental parts:
(i) The interview. Consider this a question and answer session to find out the reason for the consultation and go through your medical history.
(ii) The virtual examination. Prior to the consultation, we request images so that the doctor is aware and prepared.
(iii) The conclusions. This is the most important part for you. Dr Daniel explains what you have and all the possible treatment options.
(8) Ask, ask, and ask some more. Exhaust this resource to the extreme! We know that patients are sometime embarrassed or afraid to ask too much. Please don't worry!! Ask us everything you need to and feel is important until you can understand it clearly.
(9) Explore your options. It is possible that Dr Daniel will give you one or more treatment options. In the event that you are offered only one option, ask directly if there is any other alternatives.
(10) And finally, you'll get an estimate quote for the treatments discussed.
SOUNDS GREAT? GET IN TOUCH!
For additional information or to schedule an appointment with us, please contact us. Leave us a message asking for a video call or a regular call, and we'll be back with you shortly.
On the other hand, if you use WhatsApp, then this is safe, fast, and effective for rapid communication.