February 20, 2020
The areas that are commonly treated with liposuction remain different between men and women. While women most often want to remove fat from their thighs and hips, men commonly focus on the stomach area, and especially those pesky, stubborn love handles.
Liposuction for Love Handles
Many, if not most men, have difficulties with their love handles. This type of fat is often resistant to both diet and exercise, and it can be frustrating for those that exercise regularly and eat a healthy diet.
Such areas of fat are unwanted as they diet and exercise-resistant.  Love handles are a common concern for many men. This is most noticeable as bulges along the flanks and back. Love handles can be difficult to get rid of permanently.
Who is a Good Candidate for Liposuction Love Handles?
For certain individuals, exercise and diet are not enough to get rid of pockets of stubborn fat. A good candidate for this treatment has:
A minimal amount of excess skin and good skin elasticity. Loss of skin elasticity can compromise liposuction results.
Localized deposits of fat in your abdomen, arms, thighs and/or neck.
Physically fit, no more than 20-pounds overweight.
Liposuction is not recommended for patients with cellulite or those who are considered overweight. Read more here.
How Does Men's Liposuction Work?
The procedure works as follows:
The surgical team prepares the areas of your body that will be treated, and local or general anesthesia will be induced.
Through a small incision, a suction tube is inserted into the fat pockets to remove fat in treatment areas.
The removed fat is vacuumed away through the suction tube. Several skin punctures may be needed to treat large areas.
After the fat is removed, small drainage tubes may be inserted into the treatment area to remove blood and fluid that collects during the first few days after surgery.
A compression garment will be placed on you and used as an essential part of recovery.
The appointment may last up to two hours. If general anesthesia was administered, you will wake up in a recovery room. You'll typically spend a few hours in the clinic to monitor your recovery. Then, you can return home to rest.
Recovery and Keeping the Weight Off
To reduce risks, recovery time, and to maintain the results of liposuction, simple steps and lifestyle should be made.
After your procedure, post-operative instructions will be provided. It will also be necessary to wear compression garments to help reduce the swelling. This works to compress the skin as it re-adjusts after the liposuction procedure.
Post-op, you will likely experience swelling, bruising, numbness, and some discomfort. After all, this is surgery! But these symptoms are managed effectively with medication that we will prescribe for you.
However, you could return to work within a few days of the surgery, in a non-strenuous environment. Bruising and swelling from the newly flattened love handles area usually disappears within a few weeks.
WHICH SURGEON TO CHOOSE?
Firstly, do your homework! Check out Peru's medical college website (Colegio Medico del Peru) and see if the doctor really has a RNE (National Registry of Specialist) license. Many doctors only have a CMP license, but this is not enough for invasive, specialist procedures.
Finally, talk to us. Make contact and have an in-depth conversation is a good starting point. This is important because you get a feel for the type of clinic we are and the service you can expect to receive.
Dr Flavio Nicolich, Specialist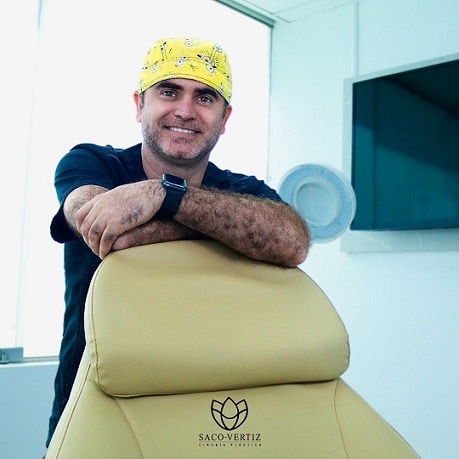 Dr Daniel Saco-Vertiz, Specialist
SOUNDS INTERESTING? CONTACT US
For additional information or to schedule an appointment with one of our Specialists, please contact us. Leave us a message asking for a video call or a regular call, and we'll be back with you shortly.
On the other hand, if you use WhatsApp, then this is safe, fast, and effective for rapid communication.