November 8, 2019
Ever wondered just how many hair transplants are needed to recover your receding front hairline or the scalp (crown) of the head? In this article, we explain how this works regarding the number of follicles to be transplanted.
Our aim is to complete your hair transplant treatment in just one session. There are many advantages in performing a large, first hair transplant procedure.
It is important to know that in a virgin scalp (one that has not been transplanted before) the elasticity of the skin is intact so that grafts can be placed more easily and will stay more securely in place.
Another characteristic of a virgin scalp is an intact blood supply. This allows hair grafts to be placed close together without compromising their survival after the surgical hair restoration procedure.
So, How Many Hair Transplants do I Need?
There are social reasons for performing the restoration quickly. The sooner the restoration is completed, the sooner the hair transplant patient has a full head of hair again and can focus on other, more important aspects of his or her life.
For this reason, our intention is to complete FUE hair transplant treatments on just one, single full day session under sedation. This is possible with the two cases which follow:
To restore the front receding hairline, between 2000 – 3000 grafts are required. This treatment takes approximately five hours, under sedation.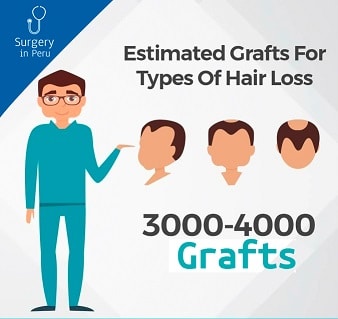 To restore the front receding hairline and also the crown of the head, this will require between 3000 – 4000 grafts. Expect the appointment to take 8 – 9 hours, under sedation.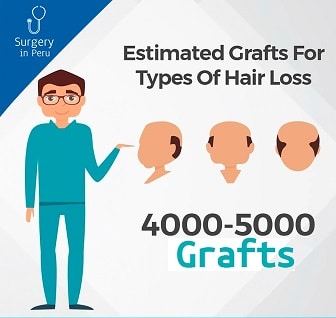 In a case such as this, it is important the patient has sufficient donation area in order to restore such a huge amount of hair loss. Two sessions are normally required on two consecutive days.
Are There Other Options?
Not really! 🙁 However, to reinforce and give additional strength to the transplanted hair follicles, we recommend treatments of Plasma PRP (platelet rich plasma).
What is PRP?
PRP is an autologous biological material that is obtained from the patient's own blood, taking a sample by a venous puncture. This is then centrifuged to separate the different components (white blood cells, red blood cells, platelets, plasma).
A portion of the centrifuge contains plasma rich in platelets, which are the cells that participate in coagulation, and healing. These factors have the potential to stimulate the reparative response of damaged tissues and is excellent for keeping transplanted hairs strong and healthy.
This treatment is recommended during the hair transplant procedure and also once or twice a year to give greater resistance to the newly transplanted follicles. This is one way to keep hair healthy and strong.
How many hair transplants you really need can only be confirmed at a consultation with our specialist. You can read more about how hair transplant treatment works in this article, which also shows real Before & After images.
Sounds Great? Let's get You Scheduled!