October 30, 2019
Hair implants (also known as hair transplants) with our English-speaking doctor in Lima, are used to treat male and female pattern baldness.
This is a minimally invasive procedure where hair follicles are taken from an area that is resistant to balding. For example, this is normally the back of the head. Then they are transplanted to the bald or balding area of the scalp.
The amount of time and sessions needed to achieve a satisfactory result depends on the amount of baldness or thinning the patient has. However, treatment is often completed in just one appointment.
Consequently, and depending on the size of the area where the hair transplants are being placed, the process will take between five and eight hours in most cases. Meanwhile, consideration should be taken that you might need another procedure later if you continue to lose hair or decide you want thicker hair.
We use sedation during treatment. This means you are asleep for most of the appointment and do not feel anything. This helps us work more efficiently and keeps you comfortable, too.
There are two scientifically proven techniques for hair transplants.
1. Follicular Unit Transplant (FUT) – also known as Follicular Unit Strip Surgery (FUSS)
Hair transplant is a surgical procedure which uses a technique to detach follicles from the back or side of the head. These are the areas which are more resistant to hair loss. The hair is then placed into the area of thinning or baldness.
FUT is a Gold Standard technique for hair implants and transplant which can cover a substantial area of baldness in a single appointment without damaging graft or donor areas of the scalp.
The FUT hair implant restoration is a widely accepted technique which is most suitable for covering a higher grade of hair loss and also suitable for offering high-density hair transplants on the patient's scalp.
Advantages of FUT Hair Transplants
Painless technique
No side effects and little maintenance required
Covers higher bald area in a single sitting
The graft damage rate is less than 1%
Gives an amazing result with a high-density hair transplants
The possibility of multiple sessions without affecting the donor density
2. Follicular Unit Extraction – FUE
In this popular hair transplant procedure, an instrument called a fine punch is used to extract hair follicles. This instrument is less than 1 millimeter in diameter.
After numbing the donor area with anesthesia, the instrument is used with a high magnification microscope to separate and extract the hair follicle. The small and multiple dots left on the donor area of the scalp recover over the following days and gradually disappear.
The FUE hair transplant technique is widely accepted as the best way to replace hair, including eyebrow transplant, mustache transplant or mild baldness hair transplant.
Advantages of FUE Hair Transplants
It is the best-suited technique for those who need a lesser number of follicles transplanted and in case of a lesser grade of baldness.
Ideal for those that have tight and less elasticity of the scalp
It can almost always be performed in a single appointment
In conclusion, hair transplants with us in Lima have become extremely popular. Our team has received excellent, internationally recognized training on the best and most successful techniques. Add to that more than ten years of experience, we consider it a winning formula.
Why Choose Us?
We have more than 10 years of experience in the most advanced and guaranteed techniques for hair transplants.
This is a scientifically proven and permanent solution for hair loss and baldness.
Our costs are accessible.  We charge less than most clinics in Lima and you still get excellent attention and great results!
Proven successful treatments time and time again.
Our specialist, Dr. Daniel Saco-Vertiz speaks excellent English.
We attend Monday to Saturday and are flexible with your schedule.
Find out how many hair transplants you might need in this short article.
Clinical Case Studies of Hair Transplants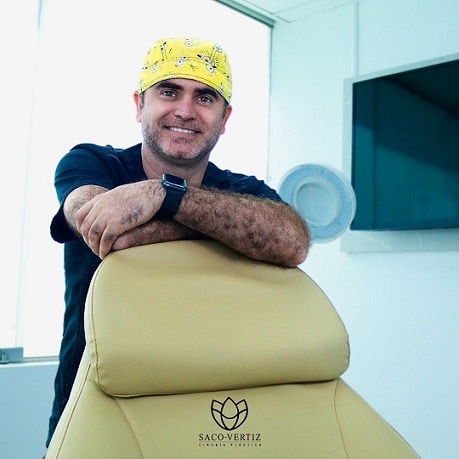 Dr Daniel Saco-Vertiz is our Specialist in plastic surgery, esthetic treatments and rejuvenation.
INTERESTED? GET IN TOUCH!
For additional information or to schedule an appointment with one of our Specialists, please contact us. Finally, leave us a message asking for a video call or a regular call, and we'll be back with you shortly.
On the other hand, if you use WhatsApp, then this is safe, fast, and effective for rapid communication.