March 18, 2020
Buttock augmentation is used to improve the contour, size and/or shape of the buttocks. This can be done one of two ways; through the use of buttock implants, fat grafting or sometimes a combination of the two.
The appropriate technique for you will be determined based on:
Butt size and shape
The amount of fat you have on your body that is available for use through liposuction
Your goals and activity level
Skin quality and elasticity as well as the amount of extra skin
Buttock Augmentation Procedure
Step 1 – Anesthesia
Firstly, medications are administered for your comfort during the surgical procedure. The choices include intravenous sedation and general anesthesia. Our specialist will recommend the best choice for you.
Step 2 – The incision
In the case of implants, an incision will be made. The incision can be made in different areas depending on the size of the implants and the surgeon's recommendation following consultation. For fat transfer butt augmentation, an incision is not made.
Step 3 – The augmentation
A silicone implant is specially made for the buttocks.
The method for inserting and positioning implants depends on the type of implant, degree of enlargement desired, your body type and your surgeon's recommendations.
Meanwhile, and in case of fat transfer buttock augmentation, the fat is firstly removed from other areas of the body through liposuction. Syringes are then connected to a special cannula. Our surgeon will use this cannula to add the fat to the buttocks through small injections all over your behind.
Step 4 – Closing the incisions
Most importantly, and in the case of incisions, these are closed with layered sutures in the buttocks tissue and with sutures, skin adhesive or surgical tape to close the skin.
Step 5 – See the results
The results of buttock augmentation are immediately visible. Over time, post-surgical swelling will resolve and incision lines will fade.
Subsequently, in case of fat transfer, you will not see your final results until several months after the surgery. This is because as it takes a while for the fat to "take" and settle. However, both procedures offer natural-looking and natural-feeling results.
WHICH SURGEON TO CHOOSE?
Firstly, do your homework! Check out Peru's medical college website (Colegio Medico del Peru) and see if the doctor really has a RNE (National Registry of Specialist) license. Many doctors only have a CMP license, but this is not enough for invasive, specialist procedures.
Finally, talk to us. Make contact and have an in-depth conversation is a good starting point. This is important because you get a feel for the type of clinic they are and the service you can expect to receive.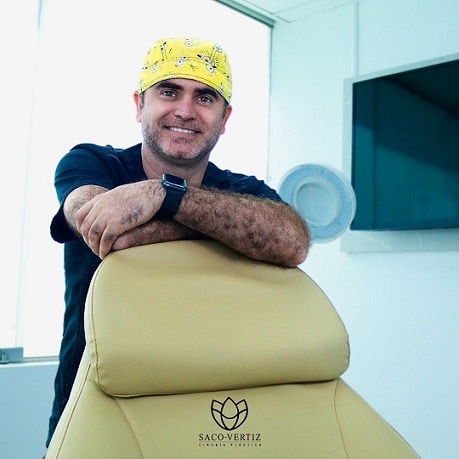 Dr Daniel Saco-Vertiz is our specialist in BBL treatments
Sounds Great? Take the next step!
For additional information or to schedule an appointment with one of our Specialists, please contact us. Leave us a message asking for a video call or a regular call, and we'll be back with you shortly.
On the other hand, if you use WhatsApp, then this is safe, fast, and effective for rapid communication.