December 5, 2022
Many women ask us if they can get a tummy tuck after having a c-section. The answer is a resounding yes! It is feasible to carry out a tummy tuck after a cesarean.
After pregnancy, the abdomen can go through large changes and lose firmness. However, an abdominoplasty is ideal for improving the aesthetics of this area. Therefore, women who have recently delivered by cesarean section are suitable candidates for this surgery.
WHAT IS AN ABDOMINOPLASTY?
Also known as a tummy tuck, abdominoplasty is a surgical procedure that removes abdominal fat and excess skin on the stomach. Thanks to this surgery we remove the excess in the entire lower and front part of the abdomen. Depending on the fatty tissue of each patient, the procedure can last more or less three hours in the O.R.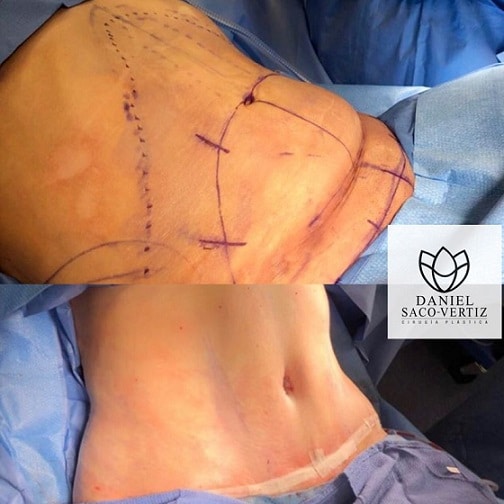 BENEFITS OF AN TUMMY TUCK AFTER A C-SECTION:
Combat excess fat that often resists diets and exercise.
Removes loose skin caused by weight loss after pregnancy.
Tightens core muscles previously weakened by pregnancy and C-section.
In addition to aesthetic benefits, performing a tummy tuck also brings medical benefits. For example, some patients reported that they were able to prevent urinary incompetence, solve back pain, and even repair a hernia.
IS IT POSSIBLE TO PERFORM A TUMMY TUCK AFTER A C-SECTION?
Yes, it is possible! A cesarean section leaves a scar in the area above the pubis, which is precisely the area where the abdominoplasty is performed. In other words, the cesarean section scar will serve as a guide to perform the abdominoplasty incision. Therefore, the result of the abdominoplasty will leave a scar similar to that of the cesarean section.
Dr Daniel Saco-Vertiz is our specialist in chacarilla, surco
WHO IS A GOOD CANDIDATE FOR A TUMMY TUCK?
Patients with excess hanging skin on the abdomen
Patients who have had large weight losses
non-smoker
This treatment can normally performed six months after the c-section
However, you may not be considered a good candidate if:
You want to have another pregnancy
If you have any heart disease or diabetes
Your BMI is greater than 30
POST CARE?
During the first days you will have a little swelling in the abdomen and some aches or discomfort. This is totally normal and to be expected. However, it is well controlled with the medication that we prescribe for you.
Recovery time is fast and you can return to a normal routine within a week or so. As with most surgeries of this nature, it is recommended to use a compression garment or girdle for achieving the most effective results.
And finally, you must adopt a healthy diet and lifestyle in order to maintain the results of this treatment.
Dr Flavio Nicolich is our specialist in San Isidro
ARE YOU INTERESTED IN THIS TREATMENT? PLEASE CONTACT US.
If you would like to improve the aesthetics and figure of your body after having a cesarean section, perhaps a tummy tuck is the treatment for you. Please contact us and put yourself in the hands of the best specialists. We can schedule an appointment or you can ask us what you need.
We are also on WhatsApp for additional information or to schedule an appointment.