March 27, 2020
Chest implants aren't just for women anymore. Men, listen up! Pectoral implants, also known as male breast implants, are body implants made of solid silicone. They are placed under the chest muscle to give a man a more muscular appearing chest.
This chest enhancement is now more sought after than ever before as young and middle-aged men look to find a way to improve their physiques.
Although made of solid silicone material, pectoral implants are flexible and soft so they feel like a pectoral muscle once implanted into the body.
These implants come in many shapes and sizes and are designed to feel like natural chest muscles. They are also very safe and last about 10 years.
Another benefit of pectoral implants is that they are also used to help fill out an underdeveloped chest. This condition is normally hereditary but can be made much, much better by using pectoral implants.
Our specialist surgeon will do a complete physical exam and may take some preoperative photos of your chest if you are OK with that. No problem if not!
This exam allows the surgeon to evaluate the shape and size of your chest wall. He will recommend the appropriate surgical technique and detail your surgery, including its risks and benefits.
HOW LONG DOES THE PROCEDURE TAKE?
Pectoral implant surgery takes approximately two to three hours and can be performed using a local anesthetic with intravenous sedation or general anesthesia. The important thing is that you are comfortable and understand how the procedure works, with realistic expectations.
During placement, the incisions will normally be made under the armpit making the implants virtually undetectable, and scars are well hidden.
It can take a number of weeks for the final results of pectoral implants to become visible as swelling and bruising subside over time. Some discomfort can be expected as the chest area heals and adjusts to the new shape.
WHICH SURGEON TO CHOOSE?
Firstly, do your homework! Check out Peru's medical college website (Colegio Medico del Peru) and see if the doctor really has a RNE (National Registry of Specialist) license. Many doctors only have a CMP license, but this is not enough for invasive, specialist procedures.
Finally, talk to us. Make contact and have an in-depth conversation is a good starting point. This is important because you get a feel for the type of clinic we are and the service you can expect to receive.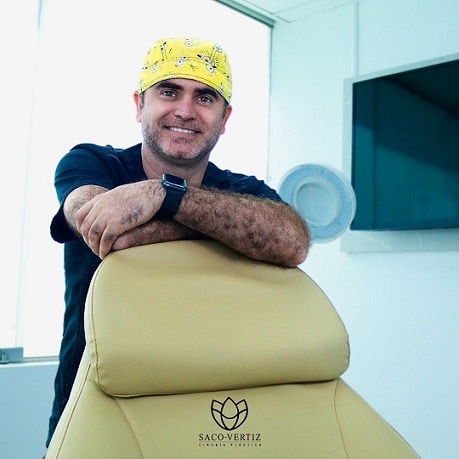 Dr Daniel Saco-Vertiz, Specialist
SOUNDS INTERESTING? CONTACT US
For additional information or to schedule an appointment with one of our Specialists, please contact us. Leave us a message asking for a video call or a regular call, and we'll be back with you shortly.
On the other hand, if you use WhatsApp, then this is safe, fast, and effective for rapid communication.