January 30, 2023
Orthodontic treatment is needed for different reasons. For example, orthodontics is the ideal dental treatment when a mouth has wonky teeth that should be aligned. Another is to align a bad bite or to deal with overcrowding.
Overcrowding occurs when people have a very small mouth and cannot accommodate a full set of adult teeth because of a lack of space.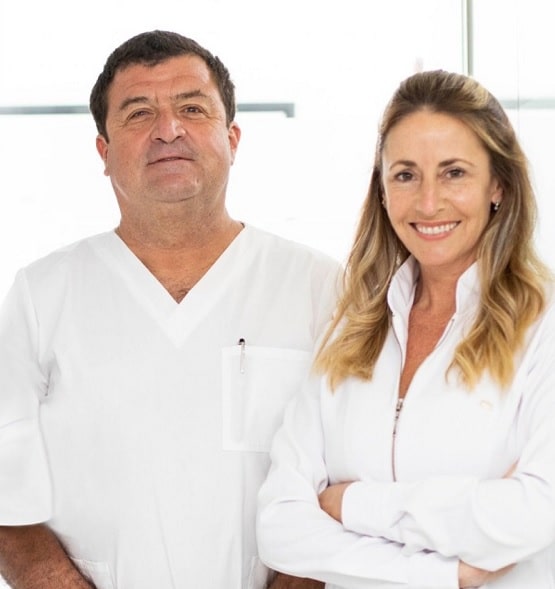 Dr Rodolfo de la Flor y Mariana Poggio, specialists in orthodontic treatment
Nowadays, there are many options for teeth alignment.
For small misalignments, veneers are an excellent option that avoids lengthy orthodontic treatment. A dental veneer covers the outside visible area of a tooth while at the same time can be used to close gaps and correct small misalignments. Typically, this is a one-time treatment that is completed in a single appointment.
However, if the problem is more severe and orthodontics are needed then there are three options:
Traditional brackets
Removable aligners (Invisalign)
Combination of aligners and brackets
Although traditional brackets are always a viable option, it is a well-known fact that metallic brackets are bulky, a little uncomfortable and difficult to clean after eating. Not to mention the poor esthetics. On the other hand, they are tried and tested over many years and are still a great option for correcting complicated bites.
Meanwhile, an advanced technology of removable aligners, also commonly known as Invisalign, is a newer treatment for orthodontics. This has the added benefit of being virtually invisible.
How Does it Work?
To begin, our specialist dentist takes a 3D digital scan of your mouth. This scan is exported and the treatment is planned virtually by 3D software. With the planning complete, 3D printers are used to print the full set of aligners.
At your next appointment, you will receive the aligners and each aligner is changed every two weeks.
Your aligners apply gentle pressure to the teeth, moving them little by little into the right position.
Once you get towards the end of the first week, you should notice the aligner becomes a little looser, and not so tight fitting. By the end of the following week, it will be easy to remove. This means you are ready for the next aligner. This sequence is followed until treatment is complete. It's very easy and virtually invisible so nobody will know you are doing orthodontic treatment unless you tell them.
Aligners are an excellent option for correcting mis-aligned teeth
Sounds Great?! Get in touch 🙂
For additional information or to schedule an appointment with one of our Specialists, please contact us. Leave us a message asking for a video call or a regular call, and we'll be back with you shortly.
On the other hand, if you use WhatsApp, then this is safe, fast, and effective for rapid communication.