March 25, 2020
A lip lift procedure is a minimally invasive, reasonably quick operation. It is a permanent surgical procedure to increase the amount of pink lip you see, helping lips look youthful and full.
Our specialist plastic surgeon creates a small incision in the lip area or under the nose. He removes the excess skin to lift and enhance the appearance of the upper lip, cupid's bow or other sagging and misshapen areas.
How long does the lip lift procedure take?
The lip lift procedure takes about 30 minutes and can be performed with local anesthesia. We might recommend operating with IV or general anesthesia. The most important aspect of this treatment is to remove excess upper lip skin just beneath the nose.
Does it make lips bigger?
We offer many brands of fillers that work well to enhance the volume of the lips. Fillers give the patient temporarily fuller lips. Meanwhile, a lip lift is a surgical lip procedure that will permanently enhance your lips, giving you a more youthful appearance.
Does it make you look younger?
A lip lift affects your upper lip only. Fillers can be used on both upper and lower lips to increase volume and enhance their look. Remember, the results of fillers are immediate but temporary, and need to be re-applied every nine or ten months. However, a lip lift is permanent. This will not only make you look younger but it will also look more natural.
Are lip lifts safe?
Lip lifts are generally considered to be very safe. This is a minimally invasive procedure and is performed with local anesthesia on a short appointment session. You return home to rest within the hour.
Does it change your nose?
Swelling and inflammatory reactions are a natural part of healing, as with any surgical intervention. Therefore, lip lifts can affect the appearance of the nose and nostrils. The surgical area may appear red or bruised after the operation which is absolutely normal. You will need to wait at least four weeks to see the final results of your lip lift procedure.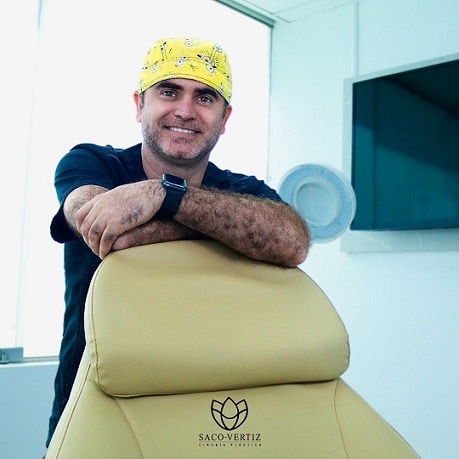 Dr Daniel Saco-Vertiz is our Specialist in plastic surgery, esthetic treatments and rejuvenation.
INTERESTED? GET IN TOUCH!
For additional information or to schedule an appointment with one of our Specialists, please contact us. Leave us a message asking for a video call or a regular call, and we'll be back with you shortly.
On the other hand, if you use WhatsApp, then this is safe, fast, and effective for rapid communication.