September 14, 2021
Mandibular profiling, also known as jawline profiling, is a procedure that allows the mandibular contour to be redefined to give the patient a more stylized appearance.
The mandibular contour defines a large part of our appearance and facial aesthetics. However, many times we do not like how this area looks and we want to improve it. Jawline profiling is an ideal treatment to perfect this area and combat what we do not like.
WHAT IS JAWLINE PROFILING?
This is an aesthetic procedure that consists of defining the facial contour, the chin, and the mandibular arch. It can be done with a set of reasonably simple, non-invasive treatments. It could include a chin implant, liposuction around the jaw, and hyaluronic acid filler treatment
This treatment allows the facial tissues to be repositioned, achieving a more stylized, rejuvenated, and jovial appearance.
HOW IS THE PROCEDURE PERFORMED?
Firstly, everyone has unique, special facial characteristics. At the evaluation, we can determine what type of treatment, what brand of filler, and what type of look would work best for you. This is based on your facial characteristics and his experience as a licensed Specialist.
Likewise, the treatment is not complicated. It begins by anesthetizing the area to avoid discomfort in the patient. In the case of the chin implant, you can choose between general anesthesia or sedation. Fillers (hyaluronic acid) are injected into the areas where you want to increase volume or correct lines.
The duration of the procedure is about half an hour, or if the treatment includes surgeries, then it can be up to 2 hours. The best part is that the results are immediate.
WHAT ARE THE BENEFITS OF MANDIBULAR PROFILING?
The main advantage is that the patient will be able to see the results instantly and side effects are few.
Fortunately, the procedure is not painful. Local anesthesia will be applied and you will not feel any discomfort.
Subsequently, you can also return to your usual routine after the procedure as recovery is very fast.
Improves the appearance of the skin as it stimulates the natural production of collagen and elastin.
Above all, this treatment allows you to adjust the results to the patient's taste with great precision and ease.
WHO CAN HAVE JAWLINE PROFILING?
To clarify, this treatment is aimed at all people who want to combat the signs of skin aging. As the years pass, wrinkles and sagging skin appear. In these cases, mandibular profiling is the ideal treatment to age gracefully.
On the other hand, it is an excellent option for those who want to improve their jaw contour due to a sag in the jaw and neck. This way you can have a perfectly defined jaw.
WHAT RESULTS CAN I EXPECT?
As a result, the patient will enjoy a more defined, slim, and stylized face. Additionally, the neck will look longer as wrinkles and excess fatty deposits are removed. This procedure also corrects facial profile asymmetries when the jawline is very weak or retracts inward.
In conclusion, you will be able to correct aesthetic problems and harmonize the mandibular contour.
WHICH SURGEON TO CHOOSE?
Firstly, do your homework! Check out Peru's medical college website (Colegio Medico del Peru) and see if the doctor really has a RNE (National Registry of Specialist) license. Many doctors only have a CMP license, but this is not enough for invasive, specialist procedures.
Finally, talk to us. Make contact and have an in-depth conversation is a good starting point. This is important because you get a feel for the type of clinic we are and the service you can expect to receive.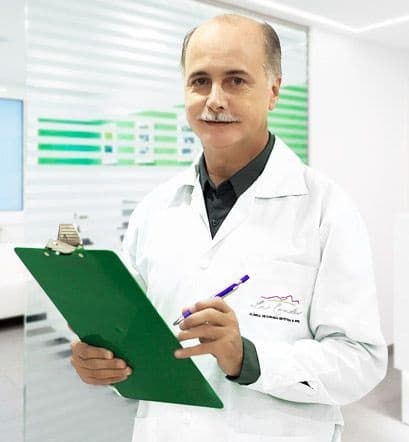 Dr Flavio Nicolich, Specialist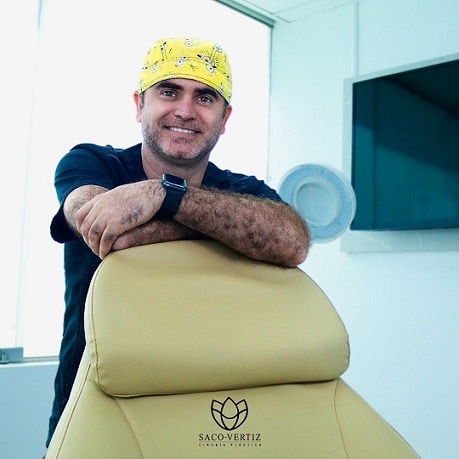 Dr Daniel Saco-Vertiz, Specialist
SOUNDS INTERESTING? CONTACT US
For additional information or to schedule an appointment with one of our Specialists, please contact us. Leave us a message asking for a video call or a regular call, and we'll be back with you shortly.
On the other hand, if you use WhatsApp, then this is safe, fast, and effective for rapid communication.