July 19, 2022
Here are five interesting facts about dental implants and their benefits:
1. Dental implants are as strong as natural teeth
Dental implants are the only option for replacing missing teeth in terms of strength and durability. Patients who have had dental implant treatment experience an ability to bite and chew that is identical to what they enjoyed with their natural teeth.
Once a dental implant is placed in the patient's jaw, the bone fuses around the implant. It is such an incredibly strong bond that it mimics the natural strength of the missing tooth.
Dr Daniel Yuen is one of our dental implant specialists
2. Dental implant surgery is not complicated or dangerous
Some people may think that because dental implant surgery involves implanting a prosthesis in the jaw, that it is a complicated procedure.
However, dental implant surgery is a routine procedure performed by thousands of dentists. Actually, it's fairly straight forward.
Dental implant surgery has a success rate of more than 98%. Anyone in good health and with enough bone to support a dental implant is a good candidate for the procedure.
On the other hand, in case that you do not have enough bone, there are bone graft treatments to increase the bone and still be able to place the implants. This is great news!

Bone must integrate to the threads of a dental implant to ensure a successful treatment. 
3. It is easy to care for dental implants
More interesting facts! Although natural teeth are susceptible to cavities and decay, dental implants are not. Because they are made of materials that are not affected in the same way as natural teeth, dental implants cannot form cavities or become decayed.
Once a dental implant site has fully healed, normal brushing and flossing are all that is needed to care for it. It's very easy, and dental implants often last a life time.
4. Dental implants protect against bone loss
Bone loss is a natural consequence of losing a tooth. In the absence of the natural root of a tooth, the jaw bone is resorbed, or in other words, starts to recede.
As the jaw changes shape due to missing teeth, the shape of the mouth is also affected. Bone loss can make the mouth look sunken or concave, and it can also cause wrinkles and deep lines to form around the mouth and chin.
5. Dental implants provide health benefits
Dental implants are not just a cosmetic procedure. By restoring a person's natural ability to bite and chew, dental implants restore the ability to maintain a healthy diet. Food is digested more efficiently and overall health is improved.
Finally, dental implants can do more than simply boost a person's confidence or give them a beautiful, bright smile. Dental implants can help preserve and maintain a healthy and youthful appearance.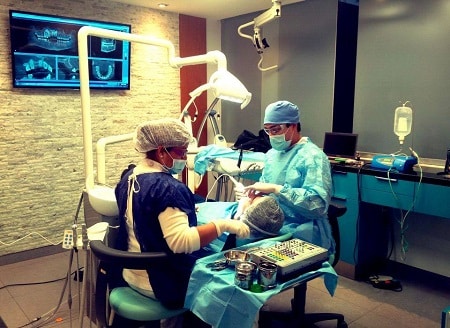 Our modern and advanced dental clinic, equipped with 3D x-rays and 3D CAD CAM
3D X-RAY IMAGING
We are one of the few dental implant facilities that offer 3D tomography within the same clinic. This is used for a 100% safe and immediate diagnosis. It also allows us 3D planning and diagnosis for an accurate and safe treatment.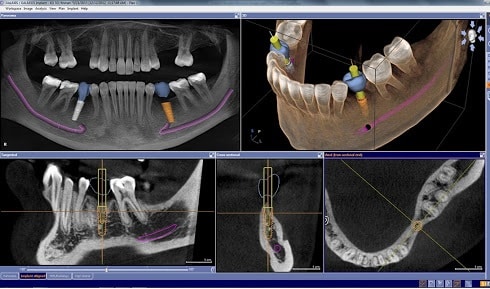 We offer in-clinic 3D tomography scan for immediate diagnosis and treatment planning
SOUNDS GOOD? SCHEDULE A CONSULTATION
Dental implants are simple, yet delciate treatments. We have two specialist implantologists in our clinic all week. So, if you are interested in dental implants, please contact us.
We are also on WhatsApp for additional information or to schedule an appointment.