February 13, 2020
Earlobe repair surgery is usually done to repair torn, stretched, or damaged earlobes, often as a result of trauma or wear and tear from heavy jewelry. Our specialist, English speaking plastic surgeon, Dr Daniel Saco-Vertiz, is board certified in plastic surgery.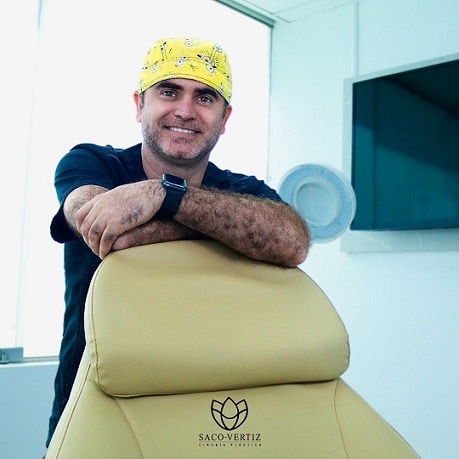 One of the procedures he performs is torn earlobe repair surgery. Stretched or deformed earlobes require earlobe repair surgery. Gauge piercings can also be repaired and restored to their former shape with our specialist English-speaking surgeon in Lima, Peru.
Considering Torn Earlobe Repair Surgery?
When earrings get snagged in clothing, pulled accidentally, or even suddenly yanked by a small child, the result can be a torn earlobe. Earlobes can also become stretched from the wear and tear of heavy jewelry or earring holes can become gradually enlarged over time.
The Torn Earlobe Repair Procedure
Depending on your individual circumstances and the condition of the ear, torn earlobes can be repaired in just one single appointment. If the wound is new and severe, you can wait until the wound is healed and the tissue is no longer inflamed.
There are different methods of earlobe surgery. The approach used will depend on how much tissue was lost and the nature of the injury. A number of different techniques can be performed to close the wound, redistribute tissue, and reshape the ear to match your natural ear shape.
Torn earlobe repair surgery is always performed as an outpatient procedure. It is a very minor treatment and there is absolutely no pain.
What to Expect After Torn Earlobe Repair Surgery
After the earlobe repair procedure, most patients don't need pain medication. However, we could recommend an over-the-counter medication, if necessary.  In most cases, the only dressing needed is a thin layer of antibiotic ointment, and stitches are usually removed in about 10 or 14 days.  Our specialist will talk to you about specific post-procedure care instructions in person.
How to get started?
Our specialist will be happy to see you and offer a full explanation of how your surgery will be done. Treatment time is normally short and comfortable with quick recovery time, too.
Please contact us by clicking here to set an appointment or send us a message by WhatsApp with a few photos for a free quote.