November 15, 2023
Welcome to the forefront of dental innovation and dental surgery in Peru! We take pride in offering cutting-edge advancements in dental treatments. These include surgeries such as dental implants, sinus lifts, extractions, and bone grafts. Plus, restorative treatments, including one-appointment crowns, veneers, bridges, root canal treatment, inlays, and orthodontics.
Wondering what sets us apart? Let's delve into the world of innovation that defines our clinic in Peru.
1. Technology: 3D Tomography X-rays for Detailed and Accurate Diagnosis
In the realm of diagnostics, precision is paramount. Our clinic employs state-of-the-art 3D tomography X-rays, providing a detailed and accurate diagnosis. This advanced technology not only detects issues at their earliest stages but also allows our expert team to plan surgeries with unparalleled accuracy.
2. Technology: 3D CAD CAM Prime Scan
Say goodbye to one-size-fits-all solutions! Our use of 3D CAD CAM Prime Scan technology revolutionizes the design and manufacturing of dental prosthetics. This innovation ensures a bespoke fit for implants, crowns, and other restorations, providing our patients with unparalleled precision and aesthetics.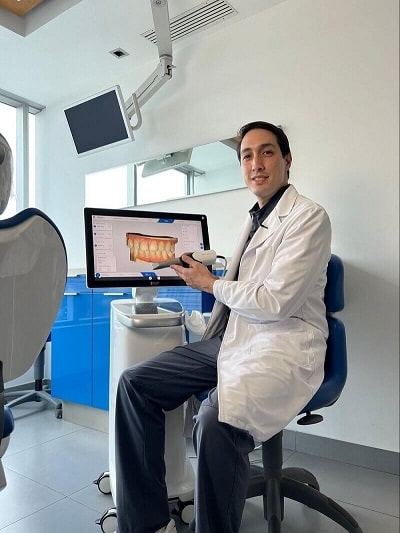 3. Dental Surgery in Peru: Modern Installations
Step into a clinic where modernity meets dentistry. Our commitment to staying at the forefront is reflected in our modern installations. From ergonomic dental chairs to advanced sterilization equipment and integrated digital record systems, every aspect of our facility is designed for efficiency and patient comfort.
4. Pain-Free Dental Surgery in Peru
We understand that a comfortable experience is crucial. That's why our clinic goes the extra mile to provide pain-free treatments. From innovative anesthesia techniques to personalized sedation options, our focus is on minimizing discomfort during and after dental procedures.
5. Excellent Doctors: Comprehensive Expertise in One Place
Why go to multiple clinics when you can find comprehensive expertise under one roof? Our team of excellent doctors brings a wealth of knowledge in surgery, implantology, orthodontics, restorative dentistry, endodontics, and esthetic dentistry. No need to shop around; we've got all your dental needs covered.
6. Dental Surgery in Peru: Comfort
Beyond the technical, we prioritize your comfort. Step into an environment designed to soothe your senses, from calming decor to friendly staff. We believe that a comfortable patient is a happy patient, and we strive to make every visit a positive experience.
7. Speed and Accuracy
Efficiency meets precision in our clinic. We pride ourselves on providing swift services without compromising accuracy. Our streamlined processes, experienced staff, and cutting-edge technology work together to ensure your dental procedures are both quick and precise.
In conclusion, our commitment to innovation isn't just a promise—it's a reality. At our clinic, we're not just shaping smiles; we're shaping the future of dental care. Come experience the difference!
INTERESTED? CONTACT US NOW!
For additional information or to schedule an appointment with one of our specialists, please contact us. Leave us a message asking for a video call or a regular call, and we'll be back with you shortly.
On the other hand, if you use WhatsApp, then this is safe, fast, and effective for rapid communication.