January 9, 2023
CEREC 3D CAD CAM dental restorations by Sirona Systems is the latest dental restoration technology available today in ultra-advanced dental treatment. It offers unparalleled aesthetics, fit and resistance, preserving the healthy structure of the teeth to the maximum.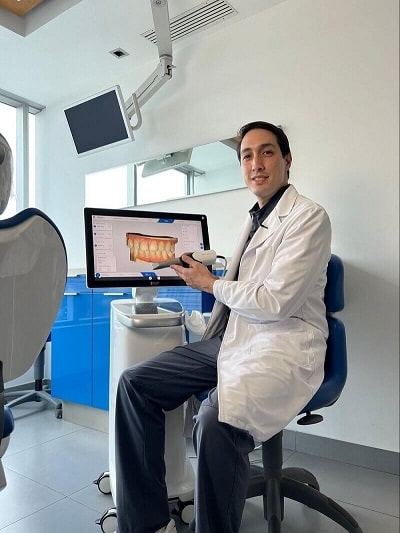 Our clinic has the latest 2023 version of CEREC 3D CAD CAM, with Dr Daniel Yuen in Lima, Peru
Step 1
A camera scans and captures a highly accurate 3D image of the teeth. Then, with the help of the computer, we design the appropriate restoration. This can include crowns, inlays, bridges or even veneers.
This is the design phase of the new tooth, performed chair-side with you! This is great as you get to see the whole process and are involved from beginning to end.
Step 2
Finally, a robot mills the restoration from perfect blocks of different types of ceramic, composite or other materials such as zirconium. This creates a solid piece, without porosity and with a surprising adjustment precision of 30 microns. It means the restorations are extremely strong and durable.
A tooth just milled after a 3D design process, and ready for placement in the patient's mouth
5 Benefits of CEREC 3D CAD CAM Same Day Restorations
Minimally Invasive. In the past, patients had to bite into a tray of pink putty so we could get impressions of their teeth. Not anymore!
Highly Precise.
Less Time in the Dentist's Chair.
Very fast, comfortable, and pain free process.
No Temporary Crown.
Long-Lasting.
The system allows the creation of prostheses based on the anatomical shape of the rest of the patient's teeth. It also allows you to create a mirrored copy of the tooth on the other side, achieving a perfectly symmetrical and natural restoration.
CEREC 3D CAD CAM is the perfect system for replacing amalgam fillings, preserving as much natural dental structure as possible. 
How long do CEREC 3D CAD CAM restorations last?
On average, with regular professional cleanings and bi-annual check-ups, CEREC crowns and restorations can last anywhere between 10 to 15 years. Many people tend to question the quality of a same-day crown in comparison to a traditional dental crown.  But rest assured: The porcelain ceramic creates excellent quality crowns and other restorations that are natural-looking and very durable.
Sounds Great, Right?! GET IN TOUCH
For additional information or to schedule an appointment with one of our Specialists, please contact us. Leave us a message asking for a video call or a regular call, and we'll be back with you shortly.
On the other hand, if you use WhatsApp, then this is safe, fast, and effective for rapid communication.