February 28, 2023
Blepharoplasty is a treatment for sagging eyelids and the delicate skin surrounding the eyes. This surgical procedure is primarily carried out for aesthetic reasons. However, it can also improve your range of visibility if there is a lot of excess skin.
As we age, the muscular structures around the eyes begin to weaken, and the eyelids stretch. Without the rigid collagen structures to support the aging skin, it can collect fatty deposits and lead to bulging bags under the eyes and above.
This is an extreme case where under eye bags were removed and upper eyelids were rejuvenated, removing loose skin, plus the excess muscle and fat.
When is the Blepharoplasty Procedure Advisable?
Anyone who is suffering from droopy eyelids or sagging skin around the eyes can benefit.
For many seniors, the procedure becomes a medical necessity when the drooping eyelid skin prevents them from fully opening their eyes or causes their lower eyelids to droop.
Overview of the Blepharoplasty Procedure
This is another case of fatty deposits under the eyes, and upper eyelid rejuvenation
1. Consultation
Consultations for blepharoplasty procedures are more straightforward than for other types of plastic surgeries.
At your consultation, our English-speaking specialist may touch and slightly move your eyelids to manipulate them into the image of how they may appear after surgery. You will need to discuss your medical history, medications you are taking, and current health problems.
The goal of plastic and cosmetic surgery is to obtain results that look as natural as possible. Therefore, you can expect your face to look healthier and younger.
2. Blepharoplasty Treatment
Blepharoplasty is an outpatient procedure. We have two options for treatment: Firstly, you can opt for general anestesia so you are asleep during the procedue. Or, oral sedation with local anesthetic. Other treatments can also be combined in the same surgery, if appropriate. For example, a facelift, neck lift or brow lift might be considered in case of full face rejuvenation.
To begin, the specialist usually starts with the upper eyelid by making an incision along the fold of the eyelid. then, he removes excess fat, muscle, and skin. The procedure is completed when he closes the incision.
For the lower lids, the procedure is nearly identical, save for the location of the incision. The lower eyelid incision can be internal or external, placed in the natural fold just below the lower eyelashes.
Treatment time is approximately one hour.
Blepharoplasty treatment eliminates bags under the eyes, plus the loose skin and fat around the eye-lids. This is a wonderful rejuvenation treatment with fast recovery times.
3. Blepharoplasty – Recovery Time
Once the effects of the sedation have passed, you may experience blurred vision from the lubricating ointment used during the surgery. This passes quickly and you can return home within an hour of finishing treatment. Complications are rare as this treatment is relatively straight-forward.
Finally, and in order to minimalize and reduce swelling, you will be instructed to use cold compresses on your eyes for short periods. Rest is very important for the first 24 to 48 hours.
WHICH SURGEON TO CHOOSE?
Firstly, do your homework! Check out Peru's medical college website (Colegio Medico del Peru) and see if the doctor really has a RNE (National Registry of Specialist) license. Many doctors only have a CMP license, but this is not enough for invasive, specialist procedures.
Then, talk to us. Make contact and have an in-depth conversation is a good starting point. This is important because you get a feel for the type of clinic we are and the service you can expect to receive.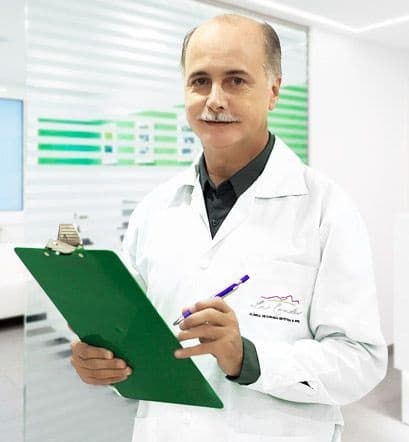 Dr Flavio Nicolich is our specialist in rejuvenation – board certified CMP 21341 and RNE (specialist) N° 11101, san isidro branch
Dr Daniel Saco-Vertiz is our specialist in rejuvenation treatments – board certified CMP 49075 and RNE (specialist) N° 34624, surco branch
SOUNDS INTERESTING? CONTACT US
For additional information or to schedule an appointment with one of our Specialists, please contact us. Leave us a message asking for a video call or a regular call, and we'll be back with you shortly.
On the other hand, if you use WhatsApp, then this is safe, fast, and effective for rapid communication.