July 2, 2023
Maybe an All-on-6 dental implants procedure is what you need if you are missing all your teeth in either the upper arch, lower arch, or both. Decades of research and success stories show this is the very best option to restore an arch of missing teeth.
First things first: We'll take a 3D scan of the entire mouth. Integrated software allows us to check bone density and the position of each dental implant. 
What is the all on 6 dental implants procedure?
A dental implant is a titanium screw that is totally bio-compatible with the body. It replaces the root of a missing tooth. This treatment normally includes placing six dental implants in one arch, which is where we get the term 'full mouth dental implants' from.
These implants support a full bridge of teeth or a custom made, fixed hybrid denture. This is great because it means that you can bite apples, chew steak, and smile as you used to. It also means living a completely normal life again with fixed, permanent teeth.
Dr Enrique Yuen, Dr Jung Song, and Dr Daniel Yuen, specialists in dental implantes all on 6, and rehabilitation dental. 
How much time does it take?
To proceed with the all on 6 dental implants treatment, your first trip to Lima should be for seven to ten days. Once the diagnosis is complete, you can begin treatment on the same day.
This involves the surgical stage and placing the six dental implants. They are placed while you are sedated which keeps you comfortable and sleepy during the treatment. You can expect this to take around 2 – 3 hours in total.
Healing, called osseointegration, normally takes 3 or 4 months. This means that the bone integrates with the implants and makes them strong enough to withstand biting pressures.
Later, and on your second trip to Lima, the implants are restored and teeth placed. This needs to be for a minimum period of two weeks to allow for the fabrication of your new teeth.
All on 4 dental implants is another excellent option in case the bone isn't optimal for six implants.
Possible Costs for all on 6 dental implants
Full mouth dental implants treatment is much more accessible in Lima than in North America or Canada. You can expect to pay around half the cost of what you would pay at a quality dental clinic at home. In fact, we run special promotions on our implants for patients that take this treatment. Please ask us for details.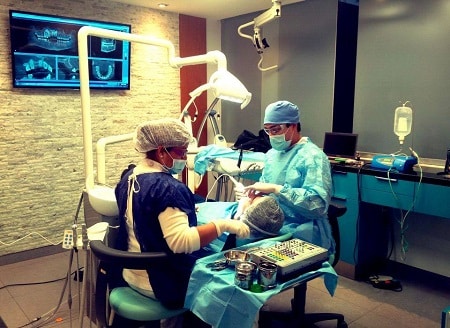 You'll find fully equipped, modern, and safe dental treatment rooms at our clinic in Lima.
Sounds great?! Take the next step
For additional information or to schedule an appointment with one of our Specialists, please contact us. Leave us a message asking for a video call or a regular call, and we'll be back with you shortly.
On the other hand, if you use WhatsApp, then this is safe, fast, and effective for rapid communication.