September 15, 2023
Are you looking for affordable dental implants in Lima Peru? Then you've come to the right place! In this comprehensive guide, we will take you through the entire process of getting dental implants with us. From initial consultation to the final smile transformation, we've got you covered!
We are the best dental specialists in Lima, Peru
Here's our Step-by-Step Guide to Affordable Dental Implants in Lima, Peru. Phase One: Implant placement
Step 1: Initial Consultation Your journey to a perfect smile begins with a consultation at our ultra modern, renowned dental clinic. Our highly trained specialists will assess your oral health with our 3D x-rays. Consequently, he'll also discuss your dental history, and determine if dental implants are the right solution for you. Finally, he will also provide a detailed treatment plan and answer any questions you may have.
Step 2: Treatment Planning Once you decide to proceed, we will create a customized 3D planning. This plan includes details about the position and number of implants needed, the type of implants to be used, and the overall cost. Lima, Peru is known for offering cost-effective dental solutions without compromising on quality.
Step 3: Dental Implant Placement The dental implant procedure typically involves just twol appointments. During the first appointment, our specialist will surgically place the dental implant into the jawbone. Further, you'll find that our dental clinic is equipped with state-of-the-art 3D technology. We also follow international standards, ensuring a safe and precise implant placement.
Step 4: Healing and Osseointegration After implant placement, a period of healing is essential. Most importanty, during this time the implant fuses with the jawbone in a process called osseointegration and normally takes 3 months. Meanwhile, our specialist implantologist will provide you with detailed aftercare instructions to ensure the healing process goes smoothly.
Phase Two:
Step 1: Abutment Placement Once the implant has integrated with the jawbone, an abutment and restoration is attached. The abutment serves as the foundation for the final dental restoration.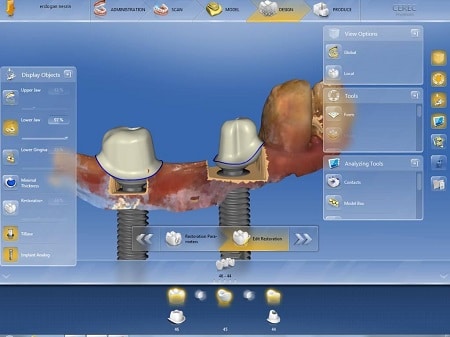 Step 2: Final Restoration In the final step, a metal-free, 3D custom-made dental crown, bridge, or denture is securely attached to the abutment. This restoration looks and functions like natural teeth, giving you a radiant smile and restored chewing ability.
Step 3: Aftercare and Maintenance Our team will guide you on how to care for your new dental implants. Regular check-ups are crucial to ensure the longevity of your implants. Likewise, good oral hygiene practices are also extremely important.
Affordable Dental Implants Lima Peru :
Affordability: Dental implants in Lima, Peru offer a cost-effective solution without compromising on quality.
Highly Skilled Specialists: Out clinic boasts a pool of skilled and experienced dental professionals who are experts in implantology. This includes an implantologist, periodontist and also our maxilofacial surgeon.
Cutting-Edge Technology: Our dental clinic in Lima is equipped with the latest technology, ensuring precise and efficient procedures. This includes 3D x-rays, CAD CAM 3D and 3D printing for guaranteed results!
Breathtaking Scenery: Combine your dental journey with a vacation in beautiful Lima, exploring its rich culture, history, and cuisine.
Tourism Support: SurgeryInPeru.com can assist with travel arrangements, accommodation, and language translation, making your dental tourism experience seamless.
Affordable Dental Implants Lima Peru – Conclusion:
Transforming your smile with dental implants in Lima, Peru is an excellent choice for those seeking quality dental care at an affordable price. From the initial consultation to the final restoration, our dental specialists and entire team provide top-notch care throughout the process.
Don't let dental issues hold you back; choose us in for your dental implant journey and unlock the smile you deserve.
Dr Jung Song Park (center) & Dr Daniel Yuen (right) are our specialists in dental implants.
INTERESTED IN OUR DENTAL IMPLANT PROCEDURE?
For your next step towards a confident smile, click here or on our WhatsApp button to schedule a consultation with one of surgeons in Lima, Peru.
We'll help you choose the best option, tailored to your unique needs. Don't let oral health concerns hold you back—reach out today!