June 11, 2023
If you are thinking about getting an abdominoplasty in Peru, you probably have a lot of questions! Here, we answer the most common questions about this important intervention.
1: WHAT IS ABDOMINOPLASTY IN PERU?
Abdominoplasty is a surgical procedure intended to remove excess skin and fat from the abdominal area. Another benefit is the tightening of the underlying muscles. This procedure creates a spectacular figure and we achieve a firmer and flatter abdomen. Above all, it improves the general contour of the entire waist.
A abdominoplasty in Peru can take between 3 & 4 hours in the O.R, and is always performed with general anesthesia.
Q2: WHO IS A GOOD CANDIDATE FOR AN ABDOMINOPLASTY?
Candidates for abdominoplasty in Peru are men and women who have excess skin and fat in the abdominal area. If this fat is resistant to diet and exercise, then it is time to have an abdominoplasty. Most importantly, it is important that candidates are in good general health and have realistic expectations about the results of the procedure.
Q3: HOW IS THE ABDOMINOPLASTY PERFORMED?
During an abdominoplasty, a horizontal incision is made in the lower abdomen, usually from hip to hip. However, the length of the incision can vary depending on the extent of the correction needed. Excess skin and fat are removed, and underlying muscles can be tightened.
In some cases, liposuction can be used to further refine the contour. Finally, the incisions are closed. Sutures are removed 7 or 8 days later.
Q4: WHAT IS THE RECOVERY LIKE AFTER THE ABDOMINOPLASTY IN PERU?
The recovery period after an abdominoplasty can vary depending on the individual and the extent of the procedure. Meanwhile, patients can expect some swelling, bruising, and discomfort in the first two weeks. The doctor will prescribe pain relievers to control any discomfort.
It is important to follow the surgeon's instructions regarding postoperative care, including wearing compression garments and avoiding strenuous activity.
This patient underwent a combined abdominoplasty and breast augmentation in a single session.
Q5: WHAT ARE THE POSSIBLE RISKS AND COMPLICATIONS ASSOCIATED WITH A TUMMY TUCK?
As with any surgical procedure, abdominoplasty carries some risks. These can include infection, bleeding, an adverse reaction to anesthesia, blood clots, poor wound healing, and changes in skin sensation. Choosing a qualified and experienced plastic surgeon is crucial to minimize these risks and ensure the best possible outcome.

Dr Daniel Saco-Vertiz is our specialist in abdominoplasty – CMP 49075 and RNE (specialist) N° 34624, surco branch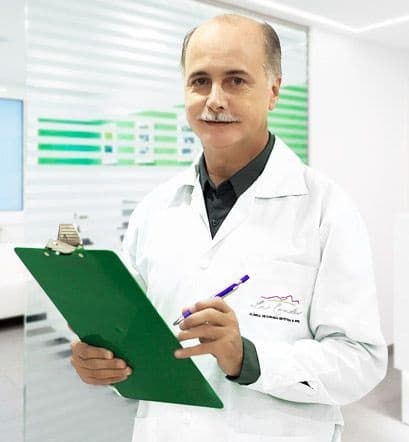 Dr Flavio Nicolich is our specialist in abdominoplasty – CMP 21341 and RNE (specialist) N° 11101, san isidro branch
Q6: WILL THE ABDOMINOPLASTY LEAVE A SCAR?
Yes, a tummy tuck will leave a scar. However, our skilled surgeons strive to position the incision in a way that allows the scar to be concealed within the natural contours of the body and easily covered by undergarments or bathing suits. Over time, the scar tends to fade and become less noticeable.
Q7: CAN A TUMMY TUCK HELP WITH STRETCH MARKS?
Abdominoplasty in Peru can help improve the appearance of stretch marks, particularly those located in the lower abdomen. During the procedure, excess skin that contains stretch marks can be removed. However, it's important to note that not all stretch marks can be completely removed, and the degree of improvement will vary from person to person.
This patient also underwent a combined abdominoplasty and breast augmentation in a single session.
Q8: WILL A TUMMY TUCK HELP ME LOSE WEIGHT?
Abdominoplasty is not a weight loss procedure. While some fat is removed during the surgery, its main goal is to remove excess skin and tighten the abdominal muscles. It is recommended that people reach their goal weight before undergoing an abdominoplasty for the best results.
Q9: ARE THE RESULTS OF THE ABDOMINOPLASTY IN PERU PERMANENT?
The results of a tummy tuck can be long lasting. With proper diet, exercise, and a healthy lifestyle, it is not difficult to maintain the results for many years.
SOUNDS INTERESTING? CONTACT US
For additional information or to schedule an appointment with one of our Specialists, please contact us. Leave us a message asking for a video call or a regular call, and we'll be back with you shortly.
On the other hand, if you use WhatsApp, then this is safe, fast, and effective for rapid communication.