December 12, 2018
Facelift (Rhytidectomy) is a general term to describe a broad range of cosmetic surgery procedures that focus on rejuvenating the facial area with surgery. The goal of the facelift surgery technique is to improve the underlying form of the face by tightening muscles while removing excess fat and skin to eliminate sagging, and perhaps adding silicone implants to strengthen features.
Gauntness and sagging are natural consequences of aging that may be impossible to correct without treatment.
The goal of the procedure is to obtain a natural appearance that restores a more youthful image. Dermal peels and other procedures may be used in combination with facelift surgeries to eliminate fine lines, deep wrinkles, and other damage to the outer layer of skin.
This patient combined a facelift with a neck lift and also some fillers. What a result!
When is the Facelift Procedure Advisable?
Anyone who can tighten their facial skin by hand to significantly improve their appearance is probably in need of a facelift. The strongest candidates for full facelift surgeries have excess sagging skin and fat that needs to be removed.
However, just about anyone in good health, with good skin elasticity and strong bone structure can benefit from some form of facelift surgery and the reversed signs of aging.
Facelifts are often combined with other rejuvenation methods like brow lifts, neck lifts, skin peels, laser treatments, botox, and fillers to improve the overall aesthetic appeal. Patients that suffer from uncontrolled diabetes or who suffer from other disorders that interfere with healing must discuss these issues with our English-speaking doctor to fully assess the risks.
Smokers will need to quit smoking for at least two weeks before surgery and two weeks after.
Overview of the Facelift Procedure
Consultation
At the consultation, our doctor will discuss your medical history and provide you with before and after photographs to give you an idea of the results you can expect. He will help you determine whether facelift surgery is right for you, and which facelift surgery he recommends, having assessed you and spoken to you about the pros and cons. In some cases, other facial procedures may be more effective at targeting turkey necks, fine wrinkles, deep wrinkles, and sagging eyes. And of course, you can save money by doing this in Lima and not in North America.
Treatment
Mini facelifts and mid facelifts are primarily focused at the areas below the eyes. The muscles may be lifted at a deeper level to improve the overall appearance. The features may be enhanced with subtle implants to fill the gauntness that comes with aging. All these things are discussed with the doctor prior to treatment.
A mini facelift can be less invasive when performed with small laparoscopic cameras that allow the surgeon to tighten the muscles without large incisions. Mini facelifts and thread lifts are successful to reverse the early signs of aging when there is very little extra skin to trim.
There are also other treatments to correct different types of muscular degeneration at a deeper level. For example, S-lifts are a type of facelift that uses S-shaped incisions in front of the ears to improve the look of the lower face and jaw.
In any case, our doctor will provide local or general anesthesia and perform these outpatient procedures in a just a few short hours.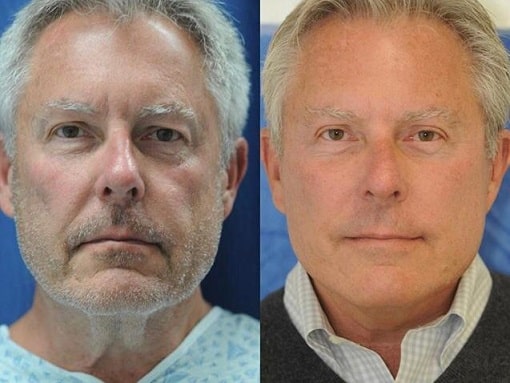 This patient combined a facelift with a neck lift and also some fillers. Another excellent result!
Recovery
There may be some slight swelling over the first two weeks and discoloration that can be concealed with makeup. At the three week mark, patients can expect to see the ultimate improvements to the facial structure.
The Next Step
If this is something you may be interested in, please contact us. We will be happy to answer any questions you may have. We can also set up a consultation appointment with our specialist to discuss your options.