July 22, 2022
There are several reasons why we lose or damage our teeth. Previously, tooth loss forced patients to wear an uncomfortable removable dental prosthesis. Today however, dental implants offer a comfortable and natural solution to replace missing teeth.
What are dental implants?
They are biocompatible titanium screws and are accepted by the human body in a natural process of osseointegration. The placement of dental implants consists of two phases of treatment.
The first is to place the implant, which will be the root of the tooth.
In the final phase, and after healing, the abutment and crown of the tooth are placed.
What types of dental implants do we offer?
We offer many options for replacing multiple missing teeth. The option of placing an arch of teeth with an all on 4 implants treatment is ideal for patients who have lost all their teeth. This procedure restores the teeth of a full arch.
However, if you still have some teeth and want to keep them, we can perform the procedure of placing multiple dental implants.
These implants go between existing teeth, to replace those that are now missing or need to be extracted. This treatment makes it possible to restore your teeth. At the same time, you save gum tissue, and avoid other complex surgeries. Another benefit is that the ligaments of the existing roots remain in place. Consequently, bone deterioration and bone loss is also avoided. This is great news!
This patient didn't want to lose all his teeth as his US dentist insisted he should. Instead, those that could be saved were saved with root canal treatment and crowns, while multiple dental implants were placed where teeth were missing or needed to be extracted.
How do we place multiple dental implants?
Step 1: The first step is to take a 3D tomography scan. Through this special imaging in high definition, we can know the possibilities and limitations of each case and make an appropriate treatment plan.
Step 2: Once this is done and the treatment plan is clear, we proceed to place the dental implants. These are located under the gum and will be the replacement of the roots of the teeth. Each implant takes around twenty to thirty minutes to place.
Step 3: Once the healing process is finished and when the implant has been correctly integrated, the abutment and crown are placed. This takes one single appointment using 3D CAD CAM systems.
Step 4: And that's it! You now have your teeth restored and you can smile, enjoy life, and eat without any issues.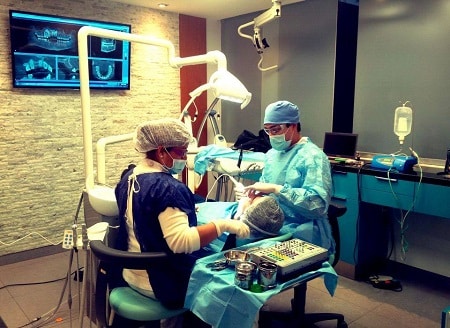 Our modern and advanced dental clinic is equipped with 3D x-rays and 3D CAD CAM
3D X-RAY IMAGING
We are one of the few dental implant facilities that offer 3D tomography within the same clinic. This is used for a 100% safe and immediate diagnosis. It also allows us 3D planning and diagnosis for an accurate and safe treatment.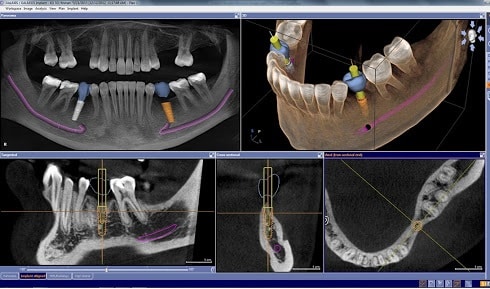 But, how long do dental implants last?
With the correct care, and with multiple dental implants rehabilitated, they should last a lifetime. However, it is extremely important to go to regular dental appointments at least twice a year to ensure proper care of your implants. These appointments are used for evaluating each implant, checking bone level, and perform professional cleanings.
Some recommendations to take care of your implants:
You must have excellent oral hygiene. It is important that you take care of your implants as much as you do with your natural teeth. A good option for this is to use dental floss and interproximal brushes.
Get a Waterpik! This is an oral irrigator that sprays water to remove food and debris from between your teeth.
Avoid bad habits such as smoking or consuming caffeine in excess. These can generate greater wear and tear and be problematic in the future.
Attend your appointments with our specialists to monitor your dental health and ensure the correct functioning of your implants.
Do you need multiple dental implants? Contact us.
For additional information or to schedule an appointment with one of our Specialist implantologists, please contact us. Leave us a message asking for a video call or a regular call, and we'll be back with you shortly.
On the other hand, if you use WhatsApp, then this is safe, fast, and effective for rapid communication.