April 25, 2022
Thinking of making that long awaited improvement to your body? Got friends that are also interested? If the answer is yes, then we will take care of all the details and attend you together, at the same time. Find great group packages with our team in Lima, Peru.
Firstly, we'll make everything as easy as possible.
Travel to Peru with your friends for plastic surgery
Be operated together on the same day
Recover together at one of our homestays or comfortable hotels.
We will provide transport, nurses, and drainage massage therapists in case of liposuction treatments.
Plus, our coordinator from England is on hand 24/7 for anything else you need.
Popular Treatments – Group Packages
Most of our patients travel to Lima for treatments such as breast reduction, breast lift, liposuction and also liftings, including face and neck rejuvenation treatments. You can get great group packages with us if you are coming with family or friends.
Above all, as we approach and pass middle age, we see that time begins to take its toll. Consequently, sagging skin and wobbly bits begin to appear that require some attention! It's normal and part of life. However, it can always be better and we have the solution for you.
If you feel that aging gracefully is for you, then now is the time to begin taking care of yourself.
Meanwhile, we also offer combo treatments at special prices. For example, you might be interested in a liposuction of the abdomen, plus a breast lift. In this case, both treatments can be done together.
Combining two or three surgeries in one session saves you money and time. Healing takes place all together, and a second surgery is avoided.
Meanwhile, you can see all of our treatments and price guide, here.
Safety
Most importantly, our doctors are board certified Specialists. Your safety is our priority and we have lots of years' experience receiving patients from abroad. We understand what you expect in terms of quality of service, availability of staff, accommodation, and value for money.
This is what makes plastic surgery in Peru as a group package even more attractive. Making plans with your girlfriend or two, or more friends, could be the answer you have been looking for. Travel together, stay together, be operated the same day and share the experience.
Professionalism
Our plastic surgeons are certified Specialists, speak excellent English and are here to help you reach your goals.
Finally, talk to us. Make contact and have an in-depth conversation is a good starting point. This is important because you get a feel for the type of clinic we are and the service you can expect to receive.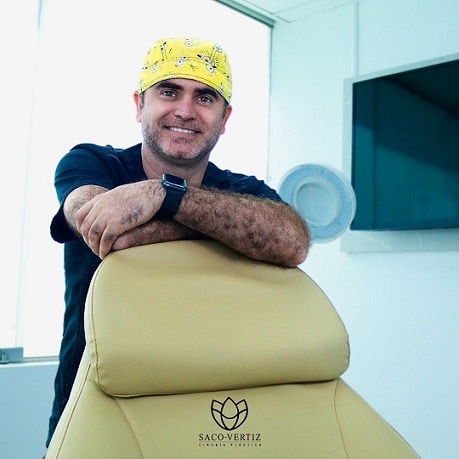 Dr Daniel Saco-Vertiz, Specialist
Dr Flavio Nicolich, Specialist
SOUNDS INTERESTING? CONTACT US
For additional information or to schedule an appointment with one of our Specialists, please contact us. Leave us a message asking for a video call or a regular call, and we'll be back with you shortly.
On the other hand, if you use WhatsApp, then this is safe, fast, and effective for rapid communication.