January 19, 2023
There are many procedures focused on providing greater aesthetics to the face, these can be surgical or non-surgical treatments. Facial plastic surgery in Lima helps you restore a more youthful appearance, improving deep expression lines and making subtle changes.
We believe that it is important to consider the opinion of our specialists to determine what type of facial surgery is ideal for you.
Dr Daniel Saco-Vertiz, Specialist in Plastic Surgery and Rejuvenation
FACIAL PLASTIC SURGERY – SURGICAL TREATMENTS
This refers to procedures that focus on improving and correcting some aspects of the patient's appearance. Various techniques and methods are used to enhance aesthetic appeal. Some of the most common procedures are:
RHINOPLASTY
The nose is restructured and modified to improve its appearance. It is considered one of the most difficult of all treatments. Even a modest nasal change requires a sophisticated understanding of the anatomy of the nose. This is one reason why our doctors are both licensed Specialists, with many years of experience.
BROW LIFT
This surgery is used to smooth the appearance of the forehead and slightly raise the eyebrows. This procedure is performed when wrinkles and horizontal lines appear on the bridge of the nose, eyes, and forehead, around the age of 40 and up.
OTHER LIFTS -Facial Plastic Surgery
Another option is the facelift and neck lift combo treatment. Doing both of these procedures together has many benefits, but most importantly, you treat two areas in one go. This means it's only one pre-op analysis and blood work, one set of meds, and only one surgery.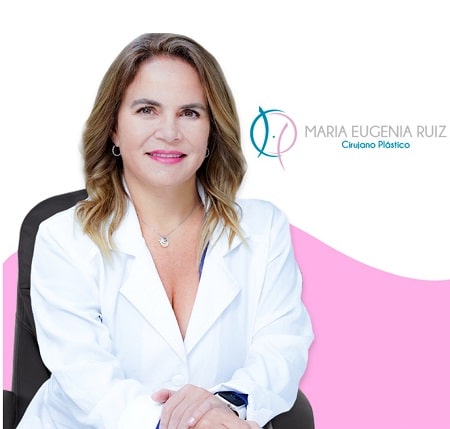 Dra Maria Eugenia Ruiz, specialist, board certified CMP 29662 and RNE (specialist) N° 15710, monterrico surco branch
BLEPHAROPLASTY – EYELID SURGERY
This surgery is needed due to loose skin and fat on the eyelids, plus bags under the eyes. Interestingly, it is one of the most common cosmetic surgeries we do.
FACIAL PLASTIC SURGERY IN LIMA – NON-SURGICAL PROCEDURES
Minimally invasive surgeries are considered to protect, improve, and maintain the current condition of the skin. These treatments are usually performed when patients begin to show signs of aging, around 30 to forty years old. Some of the options include:
LIFTING WITH PDO THREADS
Its purpose is to provide a better skin texture. A cosmetic thread is used to lift the skin in the area to be addressed. As the weeks go by, the thread dissolves and leaves skin that is firmer, smoother and more youthful. This treatment is quick and painless.
SOUNDS GREAT!? SCHEDULE A CONSULTATION WITH OUR SPECIALISTS
For additional information or to schedule an appointment with one of our Specialists, please contact us. Leave us a message asking for a video call or a regular call, and we'll be back with you shortly.
On the other hand, if you use WhatsApp, then this is safe, fast, and effective for rapid communication.