October 9, 2022
Our specialist plastic surgeon, Dr. Daniel Saco-Vértiz, was interviewed by Peru's renowned COSAS.PE magazine in late September 2022. Here's the English write-up and you can see the original in Spanish by clicking here.
With twenty-two years of experience behind him, Dr. Daniel Saco-Vértiz points out that taking care of the body is important not only for aesthetics and to improve general health, but on a psychological level, too. In addition, he emphasizes the importance of finding doctors who are always at the forefront of techniques and technology.
Dr Daniel Saco-Vértiz, license CMP 49075 and RNE (specialist) N° 34624
Taking care of the body is not only an aesthetic issue, but rather the starting point to enrich one's health and self-esteem. This is a well-known fact for Dr Daniel Saco-Vértiz, an aesthetic plastic surgeon, whose center offers advanced treatments, both invasive and minimally invasive, to improve comprehensive health for the body.
"Unlike other specialties that study a part of the body, plastic surgeons operate from the hair (hair transplant), through the face, eyes, body, genital areas, and others. This means that we are trained and prepared to see many types of different cases", he points out.
As the years have passed, plastic surgery has shed that halo of superficiality, to become a discipline that seeks the overall well-being of the person. "That is why we focus on offering a more personalized treatment based on real objectives," he adds.
Dr. Daniel Saco-Vértiz: Treatments for all tastes
He offers invasive and non-invasive treatments. In the first group are "liposuction, BBL or fat grafting in the buttocks and hips. Also included in this category are breast augmentation, reduction and lift, plus the typical abdominoplasty, facelift and rhinoplasty. Finally, eyelid surgeries called Blepharoplasty are very common in both men and women", he points out.
As for minimally invasive treatments, the doctor focuses on the application of hyaluronic acid, the use of PDO threads for mini liftings, bichectomy fat removal, among others.
The choice of each type of treatment will depend on the need of the patient. "Yes, surgery is not magic. The results will have a lot to do with the initial appearance of the patient and the aftercare the patient takes," he says.
Injectables are a fast and pain-free anti-aging treatment
State-of-the-art technology and training
One of the things that has allowed plastic surgery to stop being feared is the advancement of technology, since operations and treatments are faster, more effective and very safe.
Dr. Saco-Vértiz's center uses Crisalix software, an ultra-modern technology that uses photos to create a 3D simulation so the patient can visualize what they would look like with, for example, a breast augmentation or rhinoplasty.
Entering this link: https://my.crisalix.com/signup/drdanielsacovertiz  those interested can upload their photos and see the possible results in 3D.
"We also have ultrasonic VASER liposuction and Renuvion J-Plasma technology for cases of mild to moderate flacidity. They are all essential and help to achieve excellent results", he says.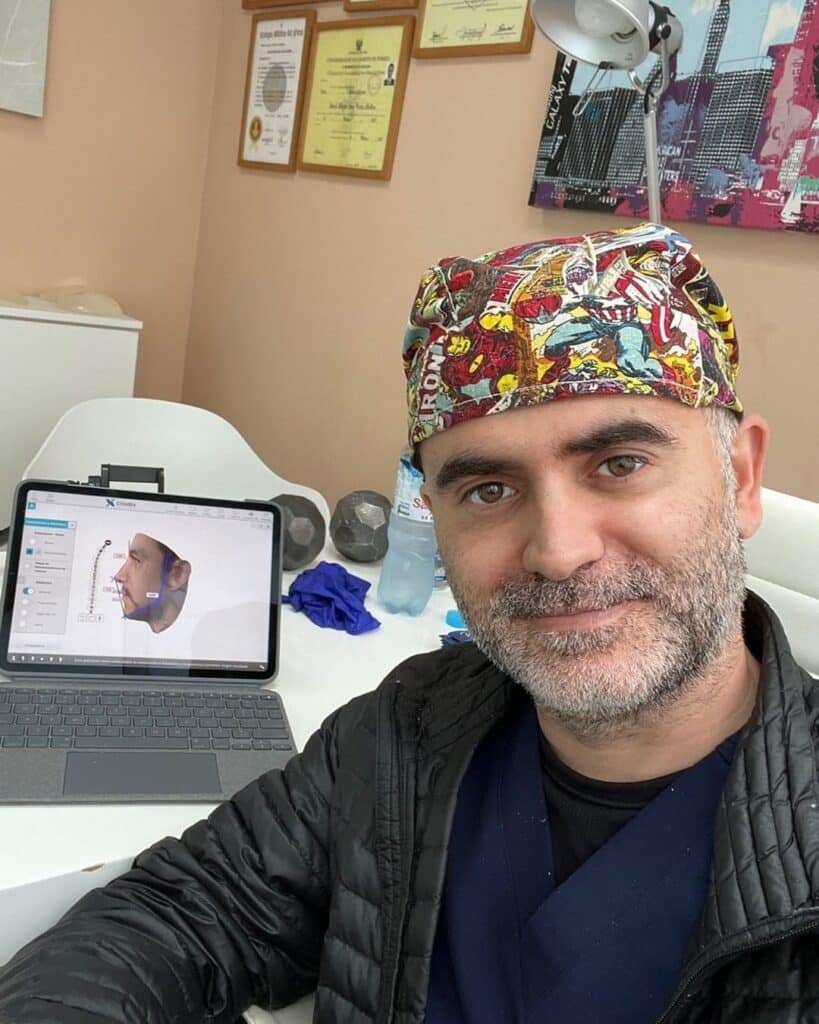 Crisalix 3D simulation is an advanced technology for predicting surgical intervention results
Dr. Daniel Saco-Vértiz: 'Experience always matters'
Dr Daniel comments, "it is important that the specialist the patient chooses for any aesthetic treatment belongs to the Medical College and is a licensed physician." He also emphasizes that people must be healthy to be able to enter the operating room and get their pre-operative blood work done.
In recent years, he has continued training in state-of-the-art techniques in different countries. Among his next plans is to open a new aesthetic center, as well as expand his services.
An optimistic future
It should be noted that Dr. Saco-Vértiz is also part of the prestigious staff of doctors at www.surgeryinperu.com, a website where anyone can find high-level specialist, English speaking medical professionals.
One of his patients, Tabitha, from the United States, commented the following: "I had an absolutely wonderful experience having surgery in Peru with Dr. Daniel Saco-Vértiz! I had a lip lift, fox eye threads, filler and wrinkle treatment. […] Now I look much younger and more beautiful. The doctor is really talented and passionate about his work."
Comments like these are the ones that fill the specialist with pride, as they show him that he has not only earned a name in the medical field, but that "my work is really worthwhile. My patients are the reason behind my career", he concludes.
SOUNDS INTERESTING? CONTACT US
For additional information or to schedule an appointment with Dr Daniel, please contact us. Leave us a message asking for a video call or a regular call, and we'll be back with you shortly.
On the other hand, if you use WhatsApp, then this is safe, fast, and effective for rapid communication.