January 13, 2023
Digital implantology is an ultra-modern technique for dental implant placement in a short period of time. Dental implants are biocompatible specialized screws that replace the roots of missing teeth. The dental implant is anchored in the maxilla or mandible bone. After an osseointegration process (time it takes for the implant to join the bone), a custom-made 3D CAD CAM crown is placed.
Dental implants make it possible for you to recover lost teeth and be to be able to chew, smile and speak confidently.
Digital Implantology – What is it?
Digital computer imaging allows us to check the density, quality and quantity of bone available. We then select the correct size and type of implant, having the entire process mapped out by specialized 3D imaging.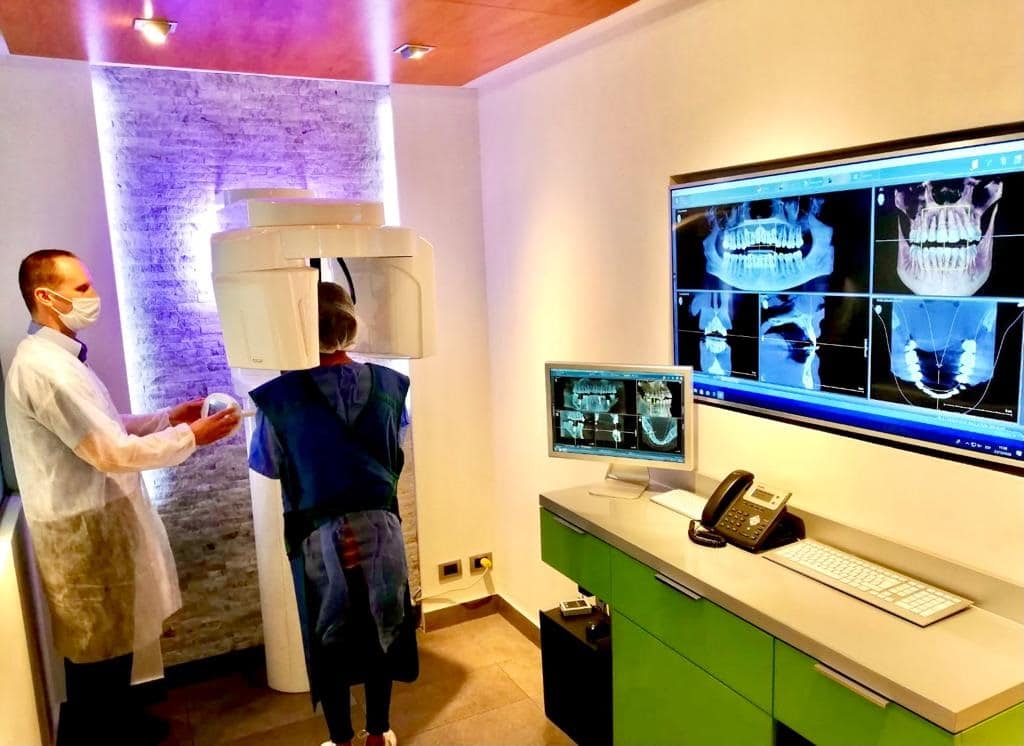 Out in-clinic 3D imaging and digital implant planning give us the cutting edge above the rest
The vast majority of surgeries are performed with a minimally invasive technique in which we practically manage to make the dreaded postoperative period disappear. Minimizing the possibility of bleeding and inflammation of the gums and tissues, each implant can be safely placed in about twenty minutes.
Meanwhile, in cases where there is no bone for implant placement, we also perform vertical and horizontal bone augmentation techniques. Thus, today, all patients can have dental implants.
No more missing teeth thanks to dental implants! 
Digital Implantology – Modern, Pain-Free Dentistry
Years ago, this process lasted between six and twelve months. Nowadays, and as long as conditions allow it, the damaged tooth is extracted and in the same surgical act the titanium implant is placed.
After a few hours, the crown is placed on the implant, all in one day.
This crown, which is placed in a few hours, is provisional, and once the osseointegration process is completed (two to three months), it is replaced by the final E.Max 3D CAD CAM crown. We have been practicing this technique with predictable results for more than fifteen years. We are proud to have a 97% success rate.
In addition, we give the patient the option of performing computer-guided surgery, that is, using a complex bioengineering system. Before beginning the surgery, we already know where the titanium implant is going to be placed, without room for error.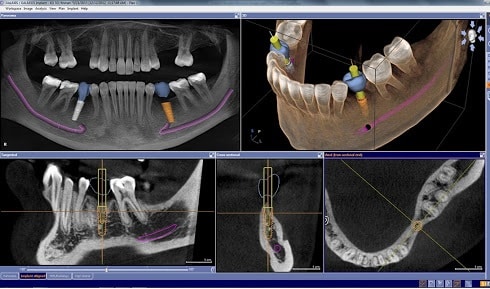 Over the last ten years, we have incorporated a state-of-the-art technique in the production of custom-made abutments and crowns. Each crown is made with E.Max reinforced porcelain for additional strength and aesthetics. This system is called CEREC 3D CAD-CAM. Both the abutment and crown are made by a machine. Therefore, we have no possibility of error, achieving a perfect, highly precise fit with the implant.
Abutments and crowns are custom made by 3D CAD CAM in-clinic, during one appointment.
So, what are the Benefits of Digital Implantology?
In short, digital implantology in our clinic is fast, accurate, and pain-free. In just a few hours, you can replace those teeth that have been causing problems and pain for you over so many years. You will be able to chew soft food that same day, reducing the postoperative period to minimal discomfort and achieving 97% treatment success.
Finally, we have nearly 20 years of experience in digital implantology at our clinic in Lima, Peru. The ideal solution for your smile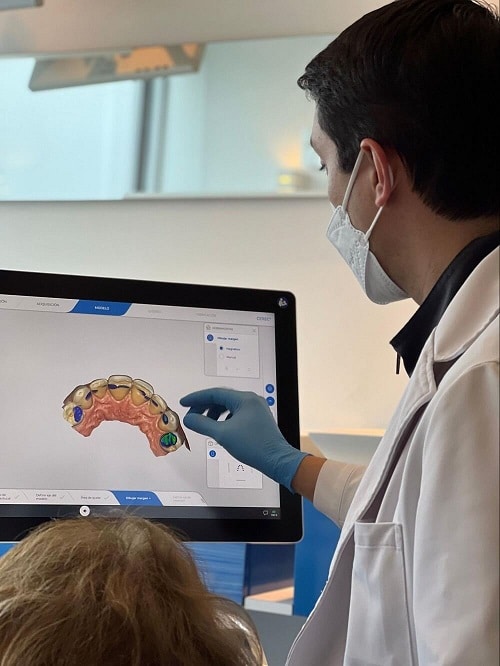 Sounds great?! Contact us for Your Consultation
For additional information or to schedule an appointment with one of our Specialists, please contact us. Please leave us a message asking for a video call or a regular call. We'll be back with you shortly!
On the other hand, if you use WhatsApp, then this is safe, fast, and effective for rapid communication.