December 5, 2021
Dermolipectomy is performed mostly around the abdomen as this is an area where more fat tends to accumulate. Thanks to this intervention, it is possible to achieve a slimmer and more defined abdomen and waist.
What is a dermolipectomy?
It is a surgical procedure that consists of removing excess fat and skin from the middle and lower abdomen. In addition, it strengthens the abdominal muscles, reducing the bulging appearance that the abdomen often has.
A dermolipectomy will achieve a flatter, firmer and more toned abdomen, and a more toned and perfectly shaped waist.
How is the procedure done?
Firstly, our specialist will perform a series of examinations to establish the best procedure according to your characteristics.
After that, surgery will be scheduled. The surgery is performed under general anesthesia to avoid discomfort. Then an incision is made that goes from hip to hip. However, this is done very low and is hidden by underwear.
From there, excess skin and fat are removed and the position of the muscles are corrected with internal sutures. This will allow the abdomen to be flatter and the waistline to be slim and toned.
Once the intervention is finished, you must follow all our post-care indications to avoid complications and ensure a speedy recovery.
Who can have dermolipectomy surgery?
Dermolipectomy is intended for both men and women who have excess fat and flaccidity in the abdomen.
Most patients that have this treatment are 35 years of age and older. As time passes, the skin begins to lose elasticity and accumulate a higher percentage of fat from around this age.
What important aspects should I take into account?
If you are a woman, it is important that you have made the decision not to have children again. When there is pregnancy, the tissues are stretched again and the benefits of the surgery may be lost.
It is recommended that you are at an ideal and stable weight. This will facilitate intervention and recovery.
Also, it is important not to smoke. Cigarettes affect microcirculation and, therefore, healing and recovery can be compromised.
Dermolipectomy is an extremely successful treatment, but it is important to lead a healthy lifestyle to maintain results.
How is the postoperative care?
After the intervention, you must rest for 24 to 48 hours to avoid complications.
The operated area will be swollen during the first few days which is normal and to be expected. This will decrease and improve as the days pass.
You must wear a special compressor garment for one or two weeks to keep the tissue in place and help achieve optimal results.
The scar will improve over time. Also, due to its strategic location it will not be noticeable.
You will be able to return to your normal lifestyle in one to two weeks.
WHICH SURGEON TO CHOOSE?
Firstly, do your homework! Check out Peru's medical college website (Colegio Medico del Peru) and see if the doctor really has a RNE (National Registry of Specialist) license. Many doctors only have a CMP license, but this is not enough for invasive, specialist procedures.
Finally, talk to us. Make contact and have an in-depth conversation is a good starting point. This is important because you get a feel for the type of clinic we are and the service you can expect to receive.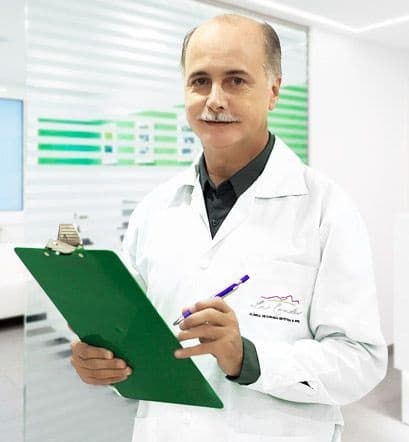 Dr Flavio Nicolich, Specialist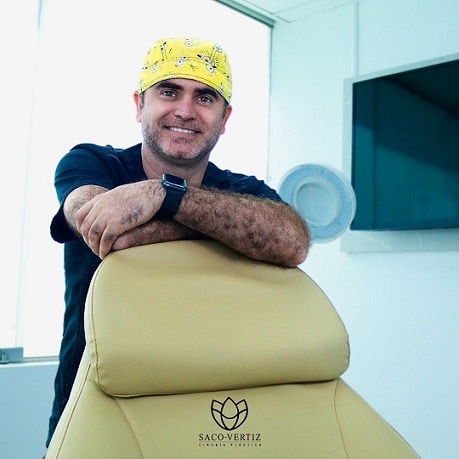 Dr Daniel Saco-Vertiz, Specialist
SOUNDS INTERESTING? CONTACT US
For additional information or to schedule an appointment with one of our Specialists, please contact us. Leave us a message asking for a video call or a regular call, and we'll be back with you shortly.
On the other hand, if you use WhatsApp, then this is safe, fast, and effective for rapid communication.