July 26, 2022
Dental implants and bridges offer a comfortable and natural solution to replace missing teeth. Dental implants are not as complex as people think. Above all, it's a straight forward, safe, and painless treatment for restoring teeth.
All of our teeth are important because they fulfill a specific function. Consequently, if we lose a tooth, we must replace it as soon as possible. This is important to avoid bone loss and shifting of the other teeth. Although there are a number of reasons why a tooth can be lost, there are also a number of ways to restore the missing tooth. Implants with bridges is one of those solutions.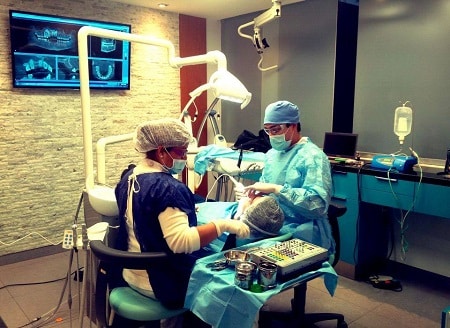 What are dental implants with bridges?
Firstly, dental implants are titanium screws that are inserted into the jawbone of the patient. This screw becomes the new root. Later, the crown becomes the new tooth.
Meanwhile, dental bridges are a structure made up of a number of teeth, used to 'bridge the gap' of missing teeth.
So, dental implants with bridges are treatments used for people with multiple missing teeth. This means that the implants are placed separated, and the bridge is placed to cover the space, like this:
A bridge of teeth is placed over two implants, to 'bridge the gap' of missing teeth
How are dental implants with bridges performed?
Step 1: The first thing we do is a 3D computed tomography. Through these detailed images, we will know all possibilities and limitations of each case. We can measure the bone and use 3D software for implant planning.
Step 2: Once this is done, we proceed to place the implants.
Step 3: After the healing and implant integration process, the dental bridge is placed on top of the implants. A bridge is a number of teeth held together as a single structure. This restores your smile and bite, adding vitality to a smile that had lost several teeth.
Step 4: Done! You now have your teeth restored and you can smile, enjoy life, and eat anything you want without problems.
3D X-RAY IMAGING
We are one of the few dental implant facilities that offer 3D tomography within the same clinic. This is used for a 100% safe and immediate diagnosis. It also allows us 3D planning and diagnosis for an accurate and safe treatment.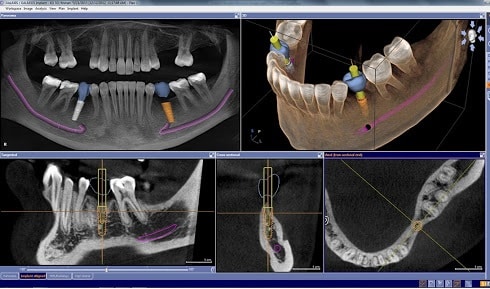 When can this be done?
Dental implants with bridges are used in patients who do not have enough jawbone to place more implants. However, they are still suitable for implants in some areas and a bridge can be considered.
In addition, the option of a bridge is a less costly alternative compared to multiple dental implants.
Interested in dental implants on a bridge? Contact us.
For additional information or to schedule an appointment with one of our Specialist implantologists, please contact us. Leave us a message asking for a video call or a regular call, and we'll be back with you shortly.
On the other hand, if you use WhatsApp, then this is safe, fast, and effective for rapid communication.