February 11, 2022
Breast augmentation with fat transfer is one of the best treatments to correct and improve the aesthetics of the breasts. More and more women are opting for breast augmentation with lipotransfer, instead of implants.
Thanks to this intervention, you will be able to improve your self-esteem and have the breasts you have always dreamed of, in the most natural and safe way.
What is breast augmentation with fat transfer?
This is a surgical procedure that consists of using the patient's own fat to increase the volume of the breasts. This fat is usually removed from the abdomen or hips and then placed in the patient's breasts.
With this procedure, the use of implants are not necessary.
What are the main advantages?
The main advantage is that by using the patient's own fat, more natural results will be obtained.
This technique is safer and more compatible to reshape and give a natural looking volume to the breasts.
There is no possibility of rejection since the fat is the body's own.
You can avoid future complications such as capsular contracture or rippling, due to the use of implants.
The scar will be very small and will be in a strategic area so that it is imperceptible.
How is Breast augmentation with fat transfer performed?
First of all, it is important that our specialist performs a detailed evaluation. Consequently, it will be determined if you are suitable to undergo the treatment.
The surgery will begin by extracting the fat from the chosen area. Remember, it can be taken from the abdomen, hips, or legs. This extraction is carried out with fine cannulas as a liposuction treatment.
The extracted fat must go through a process to purify it. This is very important since the fat that is transferred to the breasts must be in optimal conditions.
After that, the fat begins to infiltrate through small incisions using micro cannulas under the skin. That means the fat is inserted intramuscularly. In addition, you should not worry about scars because treatment is performed in such a way that they are practically invisible.
Once the breast augmentation with fat transfer has been carried out, you will be able to enjoy incredible and natural results.
Who can undergo a breast augmentation with fat transfer?
Any woman who wants to increase the size of her breasts in a more natural way. It is important not to smoke and to also have a healthy medical condition.
What are the postoperative care?
When performing a breast augmentation with  fat transfer, the recovery will be from two different areas, so you must take care in the following days.
Our specialist will prescribe painkillers to avoid any discomfort.
It is essential to rest and not carry weight during the first few days.
Sleeping on your back is recommended for the first month.
Do not smoke as this can complicate the healing and adaptation of fat to the mammary area.
WHICH SURGEON TO CHOOSE?
Firstly, do your homework! Check out Peru's medical college website (Colegio Medico del Peru) and see if the doctor really has a RNE (National Registry of Specialist) license. Many doctors only have a CMP license, but this is not enough for invasive, specialist procedures.
Finally, talk to us. Make contact and have an in-depth conversation is a good starting point. This is important because you get a feel for the type of clinic we are and the service you can expect to receive.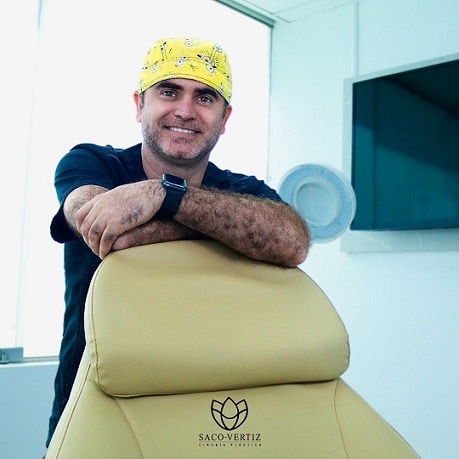 Dr Daniel Saco-Vertiz, specialist in breast treatments
Dr Flavio Nicolich, specialist in breast treatments
SOUNDS INTERESTING? CONTACT US
For additional information or to schedule an appointment with one of our Specialists, please contact us. Please leave us a message asking for a video call or a regular call, and we'll be back with you shortly.
On the other hand, if you use WhatsApp, then this is safe, fast, and effective for rapid communication.